Are you tired of struggling to separate meat from the bone with a dull and unwieldy knife? Look no further than a boning knife. Designed specifically for this task, the best boning knife boasts an exceptionally sharp and thin blade that effortlessly glides through meat, making it the perfect tool for preparing chicken, beef, or even wild game.
In this article, we'll explore the top boning knives on the market, with a particular focus on the Dalstrong Phantom Series Boning and Fillet Knife. With its high-quality steel, nitrogen-cooled blade, and comfortable handle, this knife is a standout in any kitchen and is widely considered to be the best boning knife available today. Plus, it even comes with a stylish sheath to protect your investment. So, let's dive in and discover the best knives for achieving perfectly sliced meat every time.
——— The Winner ———
Dalstrong Phantom Series Boning & Fillet Knife High-Carbon – AUS-8 Japanese Steel – 6.5″
Dalstrong Phantom Series Boning & Fillet Knife High-Carbon – AUS-8 Japanese Steel – 6.5″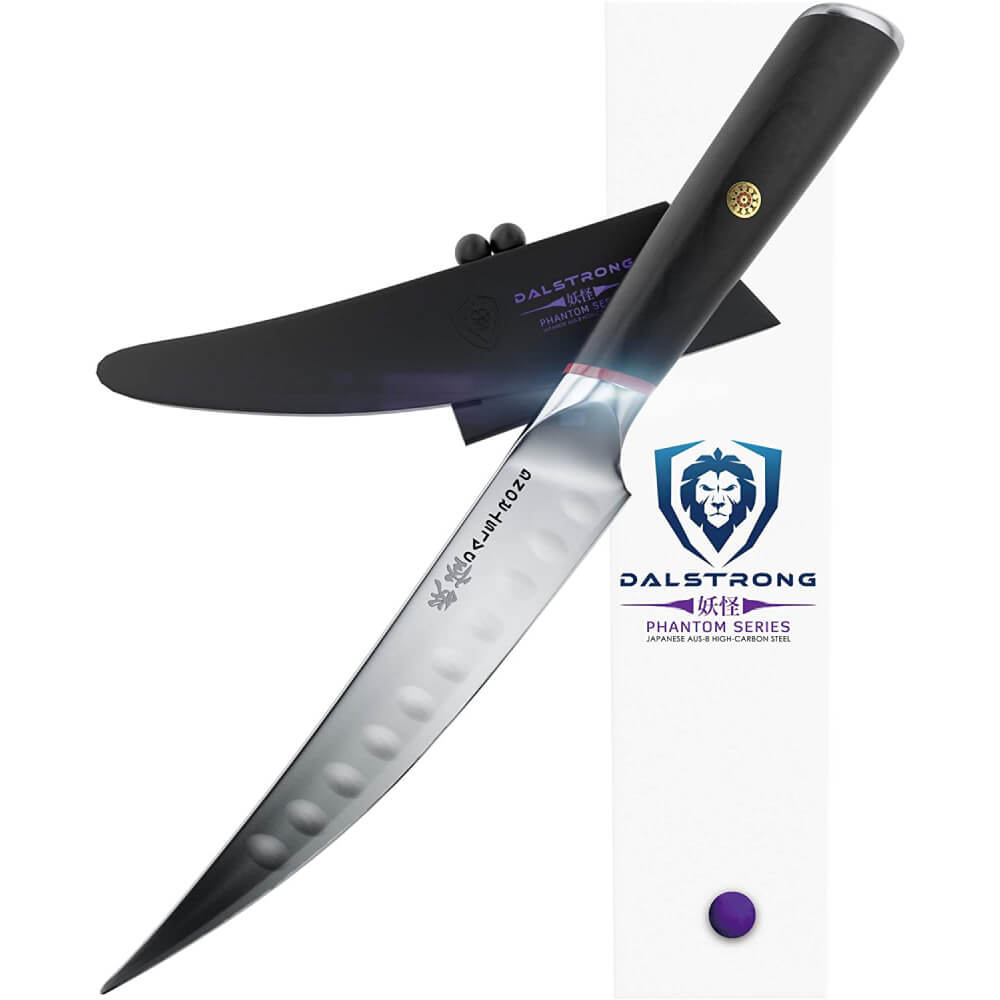 — High-Carbon AUS-8 Japanese Steel
— Nitrogen-cooled 6.5-inch blade with exceptional sharpness
— Tapered blade to reduce drag
— Full tang for optimal control
— High-quality pakkawood handle, hand-polished and laminated for confident, ergonomic use
— Enables precise and effortless cuts
— Excellently performs at both deboning meat, including whole large animals (deer, elk, etc.), and filleting fish.
For chefs, whether professional or at home, flavor is key. To impress guests or family with a meal bursting with taste, a good boning knife is essential. It gets close to the bone, fat, or blood where the juiciest morsels are hidden, making it an invaluable asset in any kitchen. Plus, it saves money by efficiently deboning meat or fish.
Boning Knives Detailed Reviews
Dalstrong Phantom Series Boning & Fillet Knife — best boning knife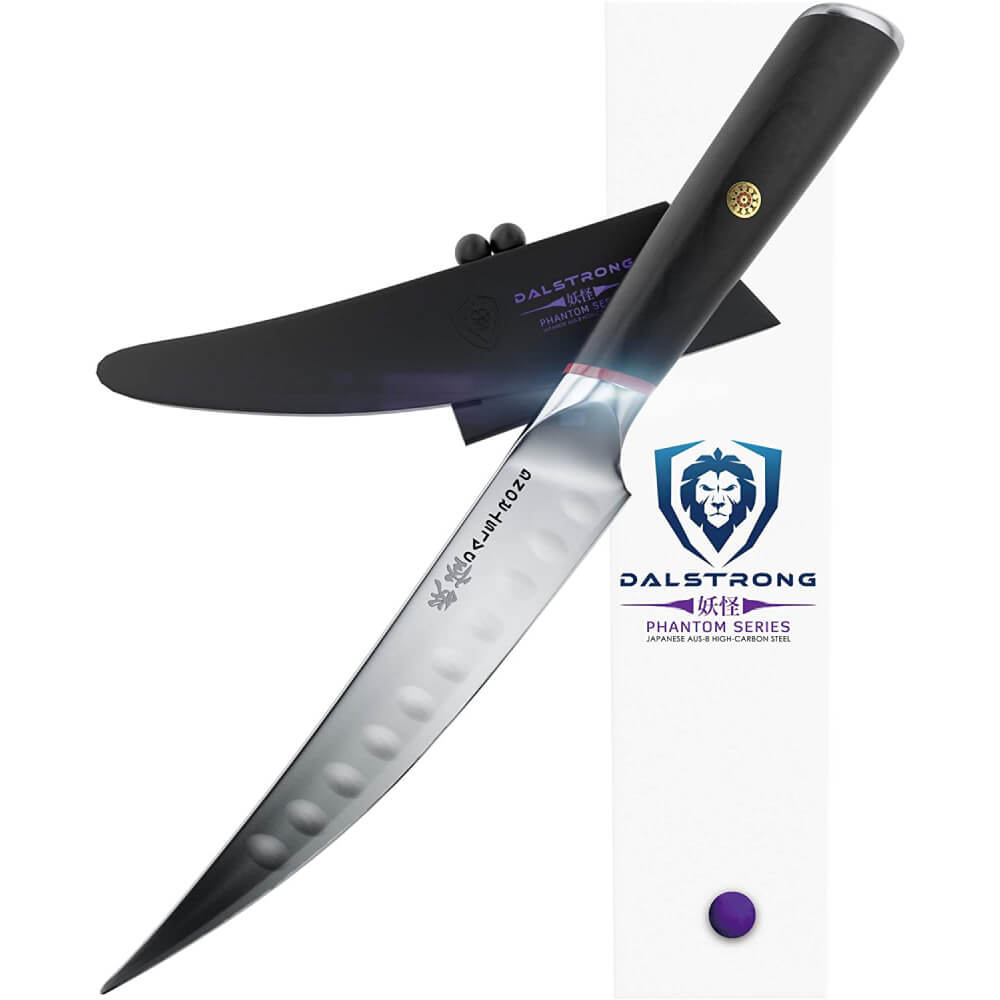 Overview
The boning and fillet knife boasts exceptional sharpness, sturdiness, and smoothness in its blade, while offering a perfectly balanced and stylish design. These features culminate in exceptional performance and elegance that are appreciated by both accomplished chefs and cooking enthusiasts alike.
Features
Constructed from high-carbon AUS-8 Japanese steel at 58+ Rockwell hardness in a one-piece design.
Nitrogen-cooled, 6-inch blade for robustness, flexibility, and resistance to rust and stains.
Ideal for boning meat, including chunky games like deer and elk, as well as filleting fish.
A slender, sharp blade allows for easy spearing of bones, skin separation, and precise slicing.
Velvety black Spanish pakkawood handle with a laminated, smoothly polished surface for a perfect grip.
Classic Japanese handle design for effortless movement and optimal cuts.
Intricate engraving on the blade for added elegance.
The mosaic pin enhances the knife's unique appeal.
Comes with an attractive plastic sheath for blade protection.
While dishwasher cleaning is possible, hand washing is recommended by the manufacturer for optimal care.
Pros & Cons
High-quality Japanese steel with a Rockwell hardness of 58+.
Full tang design for supreme balance.
Nitrogen-cooled, ultra-robust 6-inch blade.
Ruthless sharpness, slenderness, and flexibility of the blade, making it ideal for boning meat such as deer, elk, and chicken, as well as filleting fish.
Perfect blade length for performing kitchen tasks of any complexity.
The Phantom series ensures accurate, smooth, and effortless performance.
Ultra-comfortable hand-polished pakkawood handle for a grip as confident as it gets.
Does not feature a finger guard
Verdict
The Dalstrong Phantom series boning knife is a valuable find for both beginners and professionals in search of a mercilessly sharp, lightweight, nimble, and well-balanced boning and filleting tool. Though not a Japanese boning knife, it is made of Japanese AUS-8 steel, which boasts the unbeatable sharpness and thinness characteristic of Asian knives.
This high-quality and extremely durable knife can handle tasks of varying complexity, including skinning out and deboning large animals and is a splendid performer in all types of kitchens.
Mercer Culinary M22306 Millennia Stiff Boning Knife — super sharp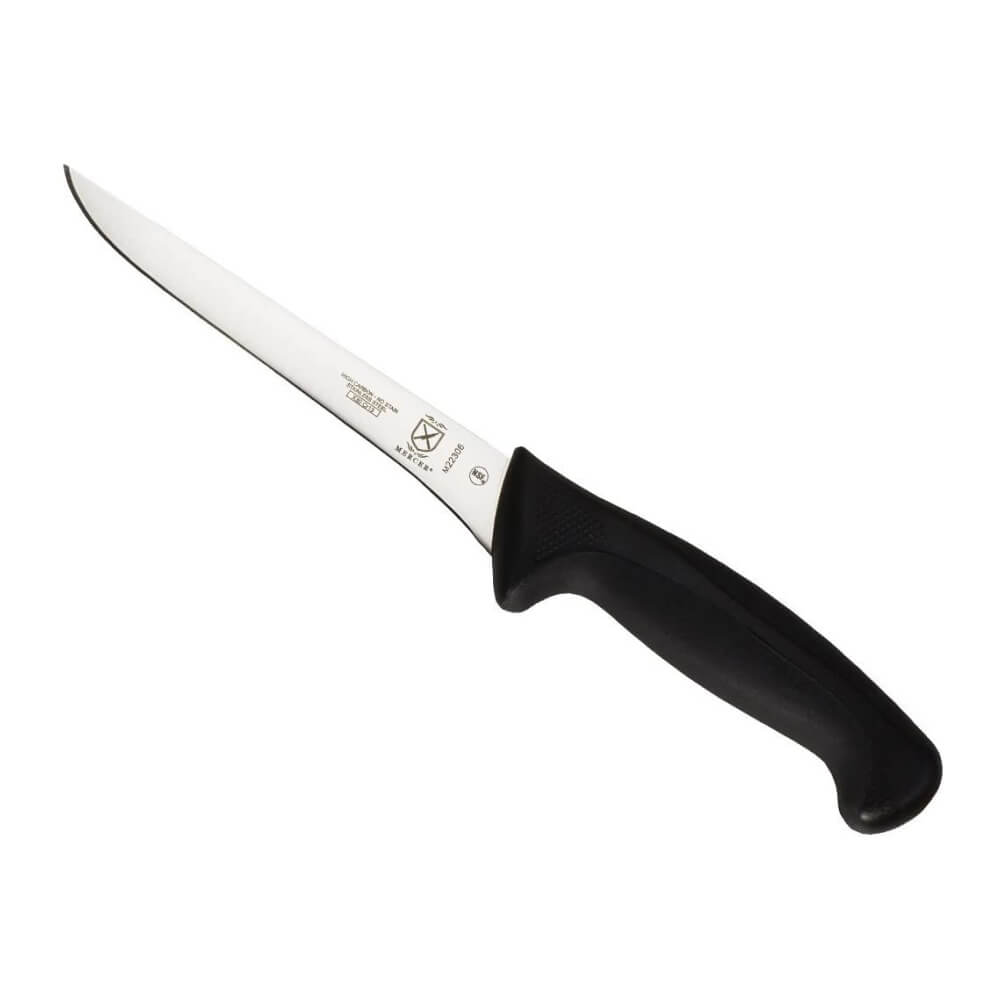 Overview
This boning knife is made of Japanese steel and features a potent, stiff yet thin blade. With its super sharp edge, it offers a sleek performance, especially for the deboning of large animals. As a superb budget model, this knife is an excellent option for those seeking a high-quality tool at an affordable price.
Features
Made of Japanese steel, this high-carbon 6-inch boning knife offers world-class quality with its robust, stain- and corrosion-resistant features that ensure durability.
NSF-certified for food safety, this knife is suitable for both cooking virtuosos and amateurs alike.
The knife's smart design includes an ergonomic handle made of a mixture of Santoprene and Polypropylene that provides a non-slip sure grip with finger points, even when the hand is oily or wet. The finger guard ensures ultimate safety while cuts are made.
The razor-sharp thin blade of this knife requires little pressure for meat boning, and its durable edge is another excellent feature that works in favor of this useful kitchen tool.
However, it is important to note that this knife is hand washed only to prevent damage to its sharp blade.
Pros & Cons
The high-carbon Japanese steel construction of this knife contributes to its solid and durable build.
The ergonomic handle of the knife ensures balance and a slip-free grip, and it comes with a finger guard for extra safety.
The knife features an amazingly sharp and powerful blade that allows for precise cuts.
Its thin blade enables maneuvering close to the bone between joints, making it ideal for boning tasks.
The knife also has decent edge retention, making it a long-lasting and reliable tool in the kitchen.
With its fantastic value for its quality, this knife is an excellent investment for anyone looking for a high-quality boning knife.
The handle made of Santoprene is prone to attracting dirt and lint, which can be a downside.
In terms of design, this product lacks some desirable features.
Verdict
The Mercer boning knife is a no-frills cutlery tool that effectively performs meat boning tasks. It is suitable for both home chefs and basic professional use. If you're in the market for an inexpensive and efficient boning knife that outlasts comparable knives in the same price range, the Mercer knife is a wise investment.
Victorinox Boning Knife Swiss Army Fibrox Pro — comfortable in use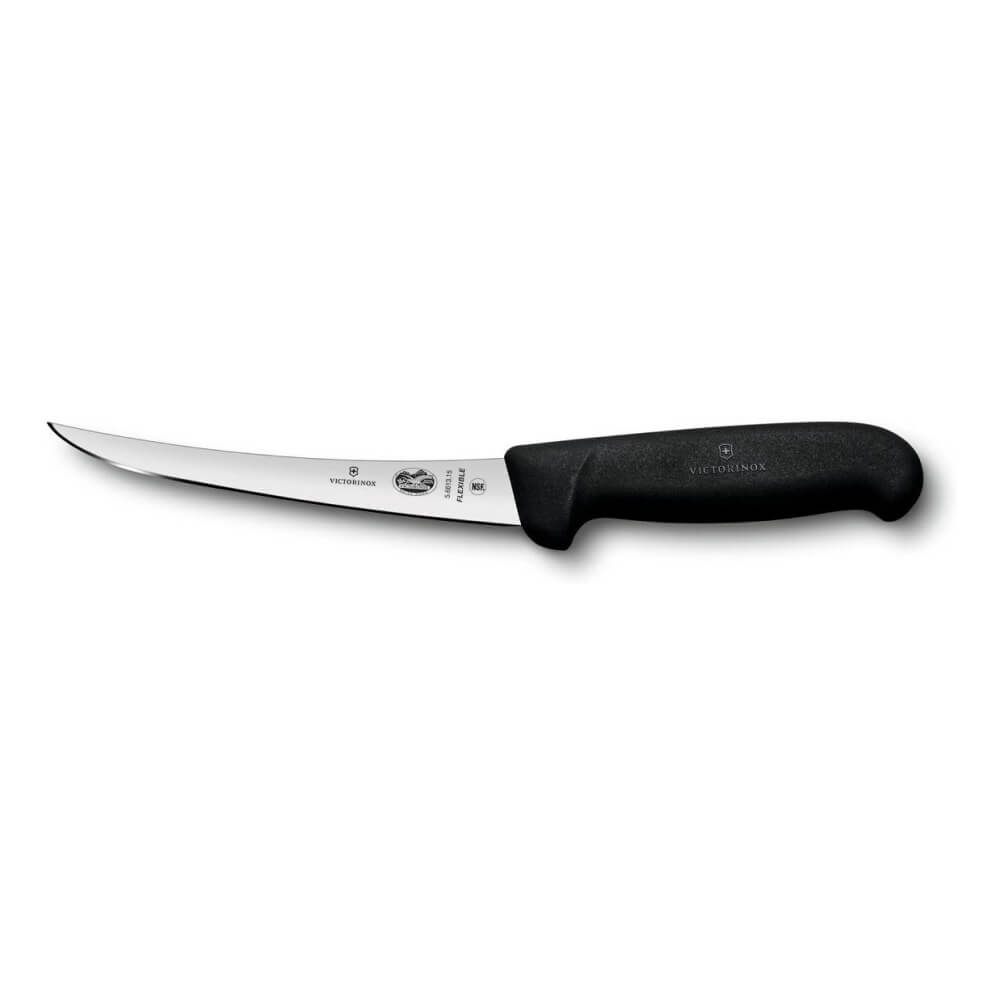 Overview
The Victorinox boning knife is versatile and capable of handling tasks ranging from boning elk, deer, bear, and chicken to filleting fish. It is NSF approved and features a pointed tip and curved edge that allows for precise cuts, effortlessly scraping the bone clean.
Features
The high-carbon stainless steel construction of the Victorinox boning knife makes it perfect for spearing bones from meat with very little pressure applied.
It is particularly effective when it comes to handling delicate types of fish and poultry, thanks to its flexible, curve-edged, and ruthlessly sharp blade that allows for perfection in filleting fish or cutting meat that is easy to spear but hard to bone.
Both smaller and larger hands will find this lightweight knife comfortable to use, as it is perfectly grippy and well-balanced. The Fibrox Pro handle is responsible for slip resistance, balance, and ease of maneuvering around bones.
The 6-inch blade of the knife is sturdy, thin, and flexible enough to handle a variety of complex jobs involving boning larger pieces of meat or filleting bigger fish. Its S-shaped blade helps achieve a more optimal cutting angle.
The Victorinox boning knives are crafted by Swiss masterminds with over a century of experience and come with a lifetime guarantee, cementing their acclaimed reputation for irreproachable quality. However, they should be washed by hand for maintenance purposes.
Pros & Cons
The boning knife features stainless steel construction that provides excellent robustness and durability.
It features a wicked sharp, curve-edged, and flexible blade that is perfect for trimming and precise cutting, along with a small pointed tip that effortlessly spears through joints while quartering.
Weighing only 3.8 ounces, the knife is light and nimble, making it easy to use for extended periods without causing fatigue.
The slip-resistant Fibrox Pro handle ensures a comfortable and secure grip, even when the hands are wet or oily.
The knife excels at dealing with delicate meat and fish, thanks to its curve-edged and flexible blade.
The optimal cutting angle is achieved through blade flexibility and its S-shaped design, which helps ensure precision and accuracy when cutting.
The knife's curved blade may not be appealing to those who are accustomed to straight blades.
Verdict
This Mercer boning knife is a simple yet effective tool suitable for both home chefs and basic professional use. It performs the task of meat boning quite well without any unnecessary frills. If you're searching for a budget-friendly boning knife that offers durability and edge retention better than its competitors in the same price range, then the Mercer knife is definitely worth considering.
Zwilling Pro Flexible Boning Knife — High-Carbon Steel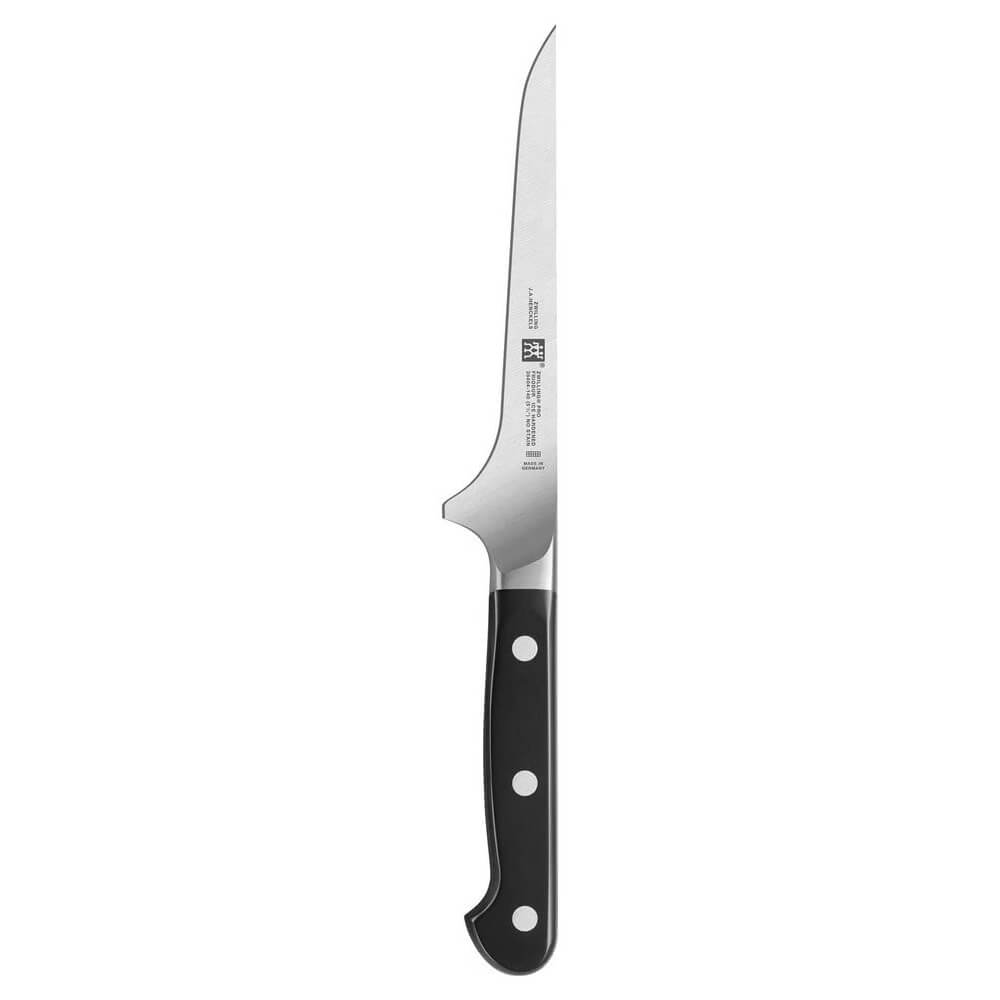 Overview
The knife combines German reliability with Italian elegance, resulting in a precise tool that performs its job with remarkable accuracy. The blade is flexible and mercilessly sharp, making it effortless to separate meat from the bone or fillet fish of any size with neatness and ease.
Features
High-quality stainless steel: a single piece, 64-layer Damascus high-carbon stainless steel at 57 Rockwell hardness
Full tang design for great balance and unforgiving sharpness, resistant to rust and corrosion
Curved bolster design for irreproachable accuracy and comfort
Friodur blade technology with a 4-stage ice-tempering process for solid durability and edge retention
Laser-controlled edge with a superb working angle (15°) for precise and effortless cuts
Classic resin-made handle with 3 rivets and a curved bolster for a comfortable, fatigue-free grip
Designed by Matteo Thun, the knife boasts superb aesthetics while maintaining function and practicality
Pros & Cons
Made of high carbon stainless steel of remarkable German quality in a full tang style
Laser-controlled edge that is unforgivingly sharp
Curved bolster for increased accuracy and precision
Solid yet amazingly flexible and lightweight
Iced-tempered blade for an edge that will last long
Stellar grip that provides comfort and ease of use
Elegant design that is visually appealing
Comes with a lifetime guarantee for added peace of mind.
Dishwasher unsuitable for cleaning
Higher cost compared to some other options
Verdict
The Zwilling flexible boning knife is a champion in precise cutting and does wonders in saving the close-to-the-bone meat that would otherwise go to waste. Its German quality has been consistently top-notch, and it excels in removing meat from bones with great precision and little effort, filleting neatly, or performing various culinary tasks involving fish with ease and style. The knife is a bit pricey, but its quality is worth the investment.
Wusthof Boning Knife 4603 Flexible — super-thin and Germany quality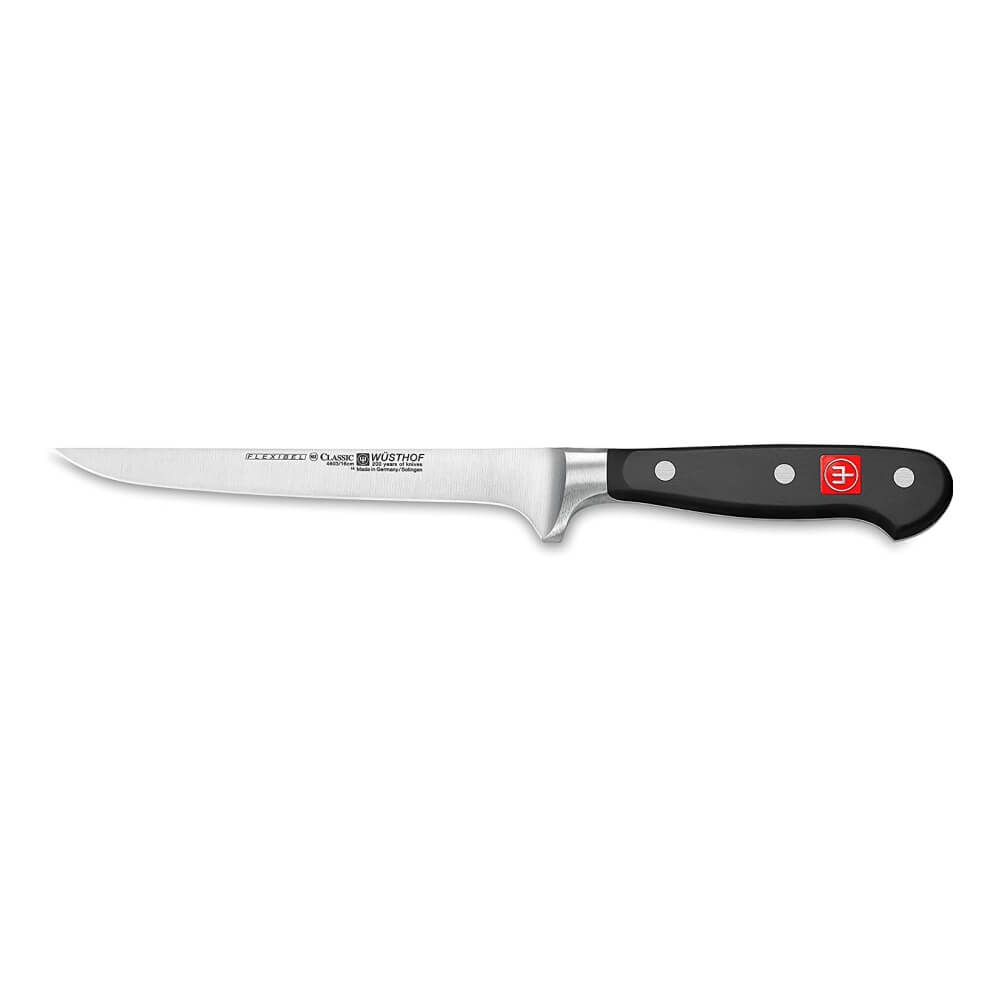 Overview
Crafted from high-quality German steel, the ultra-thin and flexible blade of this knife is perfect for handling delicate meat deboning and fish filleting tasks with ease. The handle is designed to fit comfortably in the palm, while the full tang construction ensures excellent control and confidence during use.
Features
German quality at its best: The knife is made of forged, high-carbon German steel that is resistant to stains, making it a long-lasting, high-quality culinary tool for deboning meat of any kind and filleting fish. The knife is flexible and flawlessly sharp, making it ideal for delicate fish- and poultry-related tasks. It's a top choice for distinguished chefs and culinary aficionados alike.
Ultra-thin blade for intricate jobs: The 6-inch blade is thin yet sturdy, and remarkably sharp, making it perfect for delicate cuts. The blade is tapered for better maneuvering around joints, and it's ice-tempered for a sharp, lasting edge.
Remarkably well-balanced: The tang extends the full length of the ergonomic handle, which is fixed by 3 rivets. The bolster, in combination with the handle, enhances perfectly controlled navigation around the bones. The bolster also promotes safety and finger protection.
Dishwasher safe: The knife is resistant to high temperatures and detergents, so you can safely wash it in the dishwasher without compromising its quality.
Pros & Cons
Plus & Minus
High carbon steel construction with top-rated quality
Resistant to stains and corrosion for long-lasting durability
Full tang design with finger guard (bolster) for optimal balance
Lightweight for comfortable use and reduced hand fatigue
Flexible and super-sharp for precise cuts
Impressive edge retention to maintain sharpness for longer periods
Pointed tip for swift and accurate cuts
Thin blade for delicate tasks such as filleting and deboning
Polyoxymethylene handle that is long-lasting and promotes good color retention, providing a non-slip grip
Easily resharpens for continued optimal performance.
Not ideal for very large joints
Handle logo may wear off over time
Somewhat pricey
Verdict
The Wusthof boning knife is a versatile, razor-sharp tool that is perfect for both professional chefs and home cooks who need skin and bone meat. Its excellent craftsmanship by a celebrated German producer ensures that it is a long-lasting and reliable kitchen companion.
Not only does it excel at delicate fish-related tasks, but it can also handle a variety of other cutting tasks with ease. While it may be a bit expensive, its durability and quality make it a worthwhile investment.
Top 5 Boning Knives Comparison
Dalstrong Phantom Series Boning & Fillet Knife - 6.5''

— AUS-8 Japanese steel
— Exceptional edge retention due to nitrogen-cooled razor-sharp 6.5-inch blade
— Full tang design for optimal balance and durability

— Ergonomic handle for a comfortable and slip-free grip.


Dalstrong Phantom Series Boning & Fillet Knife - 6.5''

— AUS-8 Japanese steel
— Exceptional edge retention due to nitrogen-cooled razor-sharp 6.5-inch blade
— Full tang design for optimal balance and durability

— Ergonomic handle for a comfortable and slip-free grip.


Mercer Culinary M22306 Millennia Stiff Boning Knife - 6''

— High-carbon stain-free Japanese steel
— Full tang design for optimal balance and durability
— Remarkable sharpness for precise cuts
— Comfortable handle for easy grip and control
— Finger guard for added safety.


Victorinox 47602 Swiss Army Cutlery Fibrox Pro Curved Boning Knife - 6''

— Pointed tip and curved edge for sleek piercing and precise cuts, with minimum waste produced
— Flexible blade excels at delicate boning and filleting jobs
— Forged high-carbon steel ensures sturdiness and stain-resistance.


Zwilling Pro Flexible Boning Knife - 5.5''

— 64 layer Damascus stainless steel construction at 57 Rockwell hardness with the laser-controlled edge for

Wusthof Classic 4603 Boning Knife - 6''


— Amazon's Choice for "makeup light"
— 11 adjustable brightness and 3 light modes
— Can be powered by various devices
— Works as a floor and table lamp

How to Choose the Boning Knife — Buyer's Guide
To achieve the most flavorful taste in meat and avoid settling for average quality, a reliable boning knife is essential. This tool will enable you to work closely around the bone, where the best taste resides. Here are a few key features to look for when selecting a great boning knife.
Length of the Blade
When it comes to the length of the blade, a general rule of thumb is to consider the size of the meat chunks you plan on cutting. As a result, the larger the meat, the larger the boning knife required. A blade length of 5 to 6.5 inches (ca. 17 cm) is typically sufficient for most boning and filleting tasks. However, if you're dealing with exceptionally large animals, you may want to consider a knife with a longer blade, typically ranging from 7 to 8 inches (ca. 20 cm).
The shape of the Blade
When it comes to selecting a boning knife, the blade's shape is just as important as its size. A blade with a curved edge is ideal for tasks that require ultimate precision or trimming jobs. These types of blades excel at intricate cuts and are perfect for tasks such as deboning poultry or trimming fat.
For larger chunks of meat, straight blades are more suitable. However, the most essential factor is the quality of the blade itself. Look for a boning knife composed of high-quality steel, preferably high-carbon stainless steel, to ensure that it will perform well and last for years to come.
Consider the Flexibility of the Blade for Smaller Cuts of Meat
When it comes to smaller cuts of meat like chicken or average-sized fish, opting for a flexible or semi-flexible blade can be beneficial. While the level of flexibility is a matter of personal preference, these types of blades excel at handling delicate tasks such as removing the skin from fish or precisely maneuvering around bones to scrape them clean. So, when selecting a boning knife, it's important to consider the level of flexibility you desire in a blade.
FAQ
What Is A Boning Knife Used For In Cooking?
Boning VS Fillet Knives - What's The Difference?
What Is The Best Boning Knife For Deer?
What Is The Best Boning Knife For Elk?
Which Is The Best Boning Knife By Victorinox?

Criteria for Selecting the Best Boning Knives
Material and Durability
The quality of the metal used to construct the knife is a crucial factor that affects its longevity and performance.
Blade Technology
Different technologies are utilized in crafting the blade to ensure ultimate sharpness and edge retention, such as ice-hardening and laser-controlled edges.
Design and Comfort
Blades come in various designs, each with unique features such as pointed tips, full tangs, rivets, and bolsters that aid in achieving specific kitchen tasks.
Flexibility and Stiffness
The flexibility of the blade, whether it is flexible, semi-flexible, or stiff, should be considered depending on the delicacy of the task at hand.
Maintenance
Proper maintenance and care are essential for the knife's long-lasting performance. It's important to follow manufacturer guidelines and avoid putting the knife in the dishwasher if it's not recommended.
Final Conclusion
Dalstrong Phantom Series wins the best boning knife with quality, price, steel construction, sharpness, maneuvering, grip, flexibility, and design. Ideal for deboning whole deer or trimming cow breast, this knife ensures no loss of meat flavor.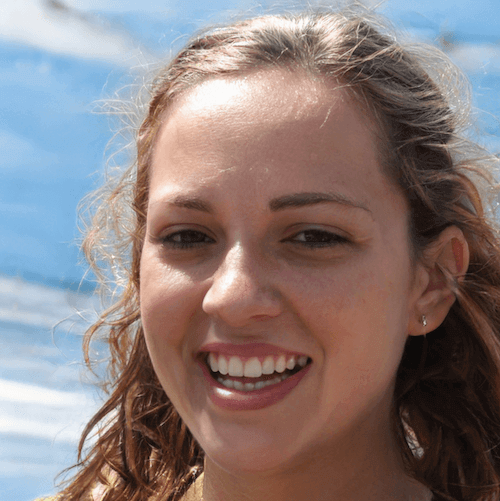 Hey. I'm the author of this blog. Ever since I was a kid, I've seen my dad slickly stabbing. Later he taught me how to throw knives and axes at a target. Then I fell in love with knives, especially about them. This blog is in honour of my dad.