No housewife, let alone an experienced cook, can do in the kitchen without the main accessory – a knife. No kitchen combines and other modern units can replace the good old knife. In order for it to serve its owner for many years, it is necessary to choose it very carefully. Let us learn the most important rules for choosing a kitchen knife.

What brand to entrust the choice to
You should not trust the commercials that Vinzer and Berghoff, which are popular in our regions, are really made in Germany and Belgium. All this is the work of Chinese "craftsmen". True Europeans were, and will be, Opinel, Victorinox, Morakniv, whose knives keep their sharpening for months, and whose warranties are issued without any validity period. Of the real kitchen knives, which are made in Japan, it is worth noting Tojiro, Kanetsugu, Kasumi and top models of KAI.
ALSO READ: What knives does Nigella Lawson use
Opinel. Opinel is a century-old brand that is reliable and flawless. It holds the first place in the ranking of leaders because of the perfect cut. The brand's kitchen knives are made of two kinds of steel: carbon and stainless steel (inox). The price is quite acceptable for the average user.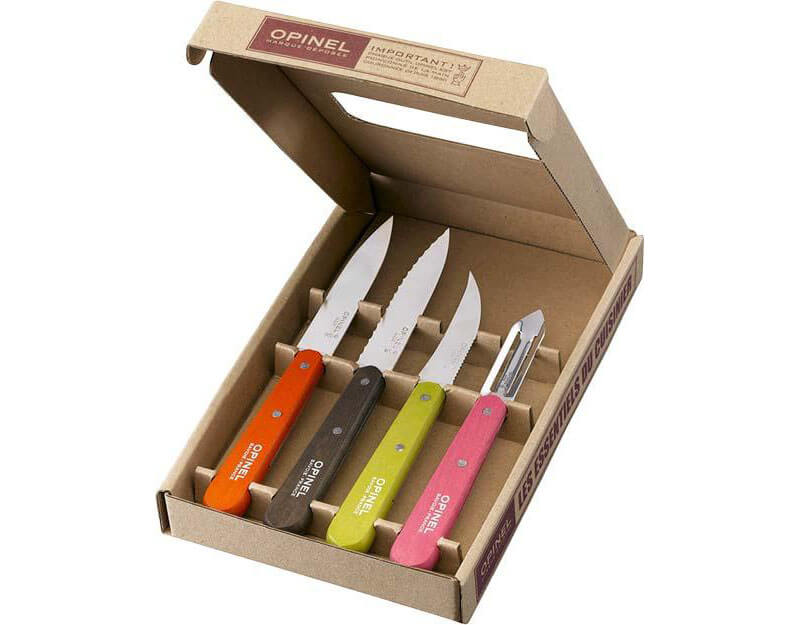 Victorinox. The company gives its knives a precise geometry, and the high durability of its products is legendary. Victorinox products have a hardness of HRc 55-56.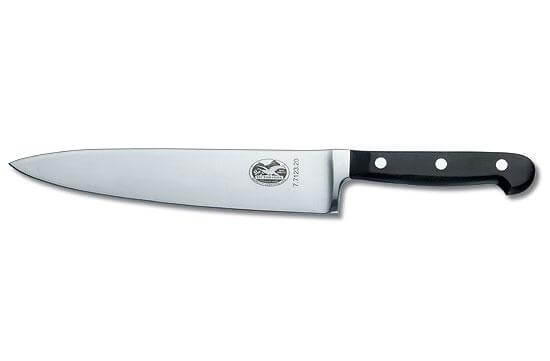 Tramontina. In the world ranking the Brazilian brand Tramontina holds the primacy. The series of professional kitchen knives "Master" is not only high quality steel, it is also light weight, correct geometry, absence of gaps and ergonomics.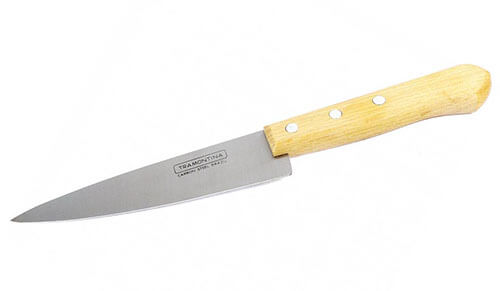 You should know that when choosing a knife for the kitchen special attention should be paid to the manufacturer. Even an inexpensive device from a well-known brand will always be better than the most expensive Chinese analog.
Among the recognized best manufacturers are such brands:
Zolinger. "Trick" Zolinger is the hand sharpening of each product. The strength of the blade, resistance to corrosion and solid steel ensured the brand's popularity around the world.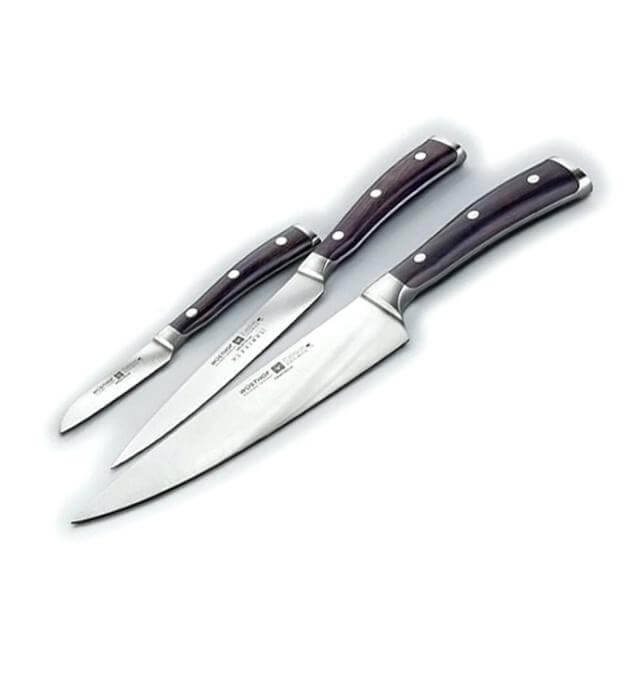 Tojiro. Japanese restraint and technological sophistication is evident in every Tojiro product. The hand-sharpened blade ensures sharpness of the blade for a long time, and the price and quality of the products make them affordable for many housewives and professional cooks. The hardness of the steel is 60-61 HRc: a very high value for any kitchen knife, but in addition, plates of softer steel are welded on top of the steel core to provide flexibility, this technology is called "lamination".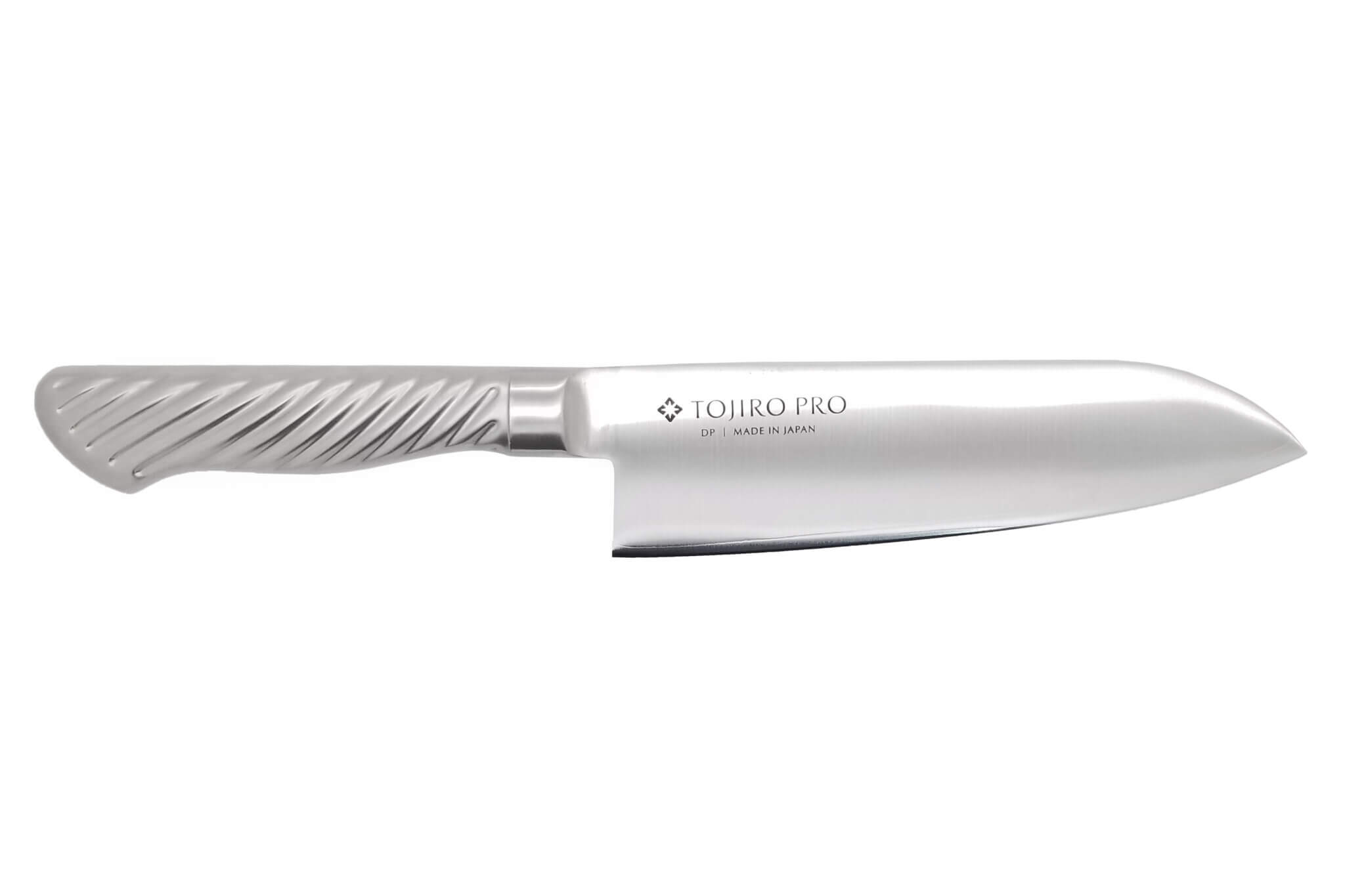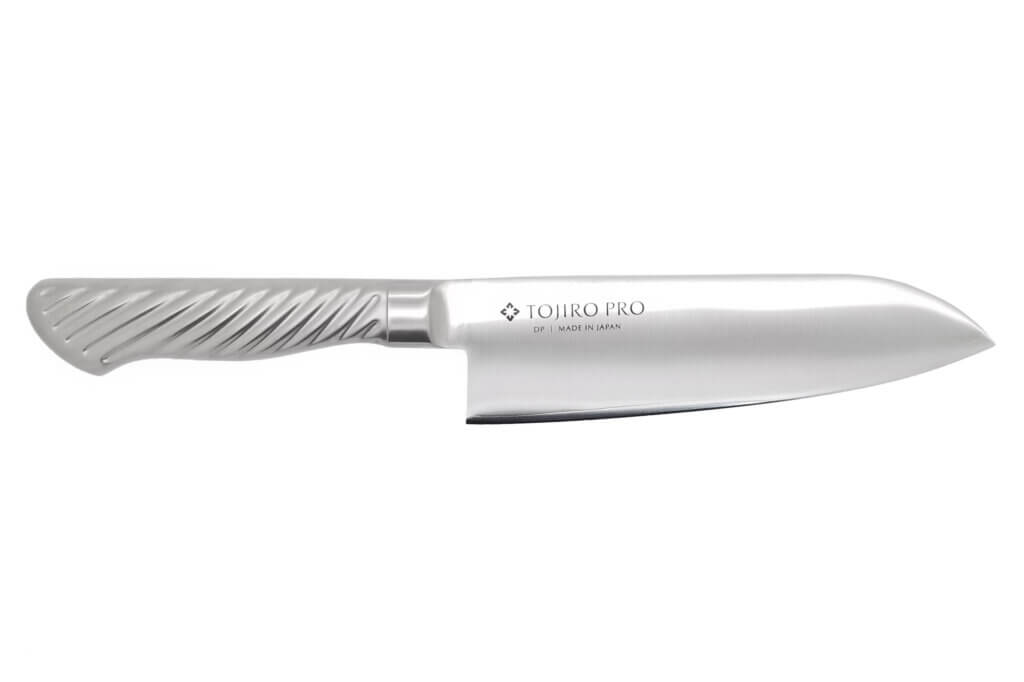 Evercut and Sabatier. The French brands of sophisticated design and high durability, which last for decades, have long earned fans not only among French housewives, but also in the circles of chefs-professionals.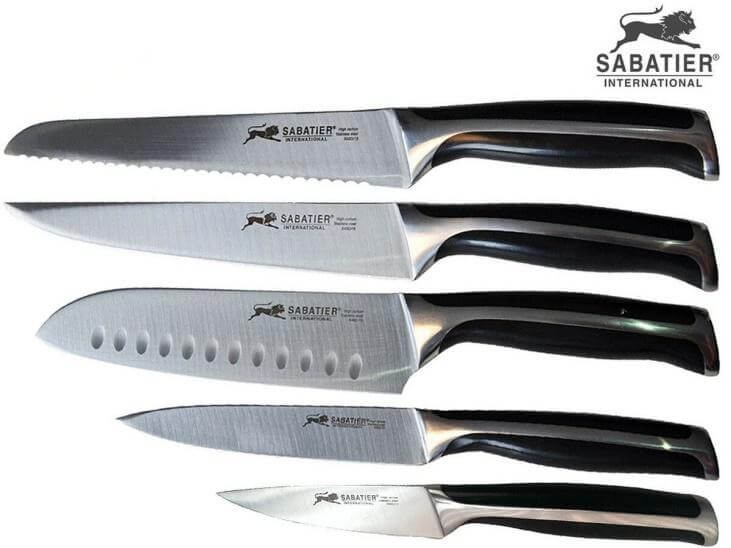 Del Ben. Products of this brand stand out among the competitors with handles made of unique wood, individual design from Italian masters, as well as handcrafted finished knives.
Also noteworthy are the Spanish brand Arcos and Japanese Global, which not only have an elegant appearance, but also are made of special steel by cold-hardening technology, which allows them to use for many years.
Selection Criteria
In addition to the manufacturer, when choosing a kitchen knife, it is recommended to pay attention to such basic criteria as:
type of steel;
geometry;
ergonomics.
If with the type of steel it is still possible to understand, but for many people, the geometry of the knife causes frank incomprehension.
In fact, the quality of cutting depends on this parameter. The knife can saw as a blunt object, and smear smoothly falls through the products, giving out even pieces of the right size.
Proper kitchen knives are wedge-shaped and have a thin blade. Only then will they do the job with ease.
The ergonomics of the knife are also important in making the final purchase decision. The device should fit comfortably in the hand, with no slipping, no falling out, no rubbing. For this purpose, the edges of the handle are made smooth and the center of gravity is placed in the middle between the blade and the handle.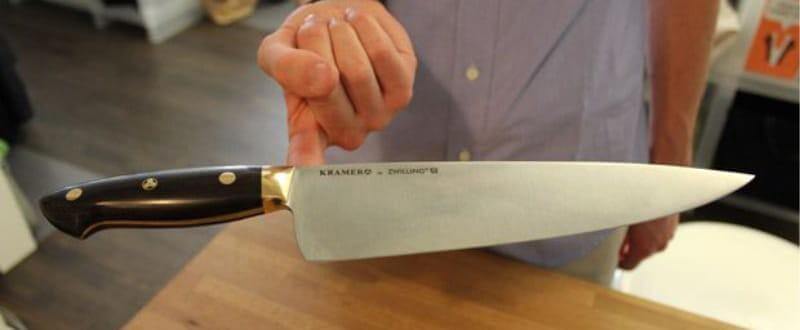 What kind of steel is preferred?
The type of steel directly affects the sharpness of the knife and its ability to slice food. There are many types of all kinds of materials that are suitable for the production of kitchen knives. The most common are:
stainless steel – unpretentious in maintenance, but it dulls very quickly (sharpening such knives will require monthly);
Carbon steel (carbon) – the blade is hard, perfectly cuts and keeps its sharpness for a long time, but the material itself is delicate and quickly corroded (requires frequent attention and special care).
Professionals choose carbon knives of higher hardness. Manufacturers with a high reputation indicate this parameter in their product catalogs.
For home use, housewives can use knives with a hardness of 50-60 HRC.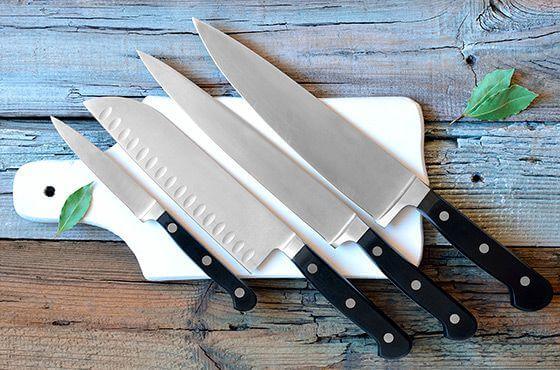 The main advantages of knives made of carbon steel are sharpness and long life. Among the disadvantages are low moisture resistance, special care, as well as the taste of the metal on products with acid.
Damascus knives should be mentioned separately. This type is considered elite and is used in the work of experienced chefs. It is as sharp as a razor and combines different types of steel. The hardness of such knives is usually above 60 HRC with no loss of strength.
Steel or ceramic?
Many users often ask: "Which knife is more productive and versatile: steel or ceramic? Let's try to answer it.
It is important to understand that knives from these two materials do not replace each other. They are completely different in their characteristics and are used for different purposes. –
Let's understand the properties of ceramic knives. They are characterized by such advantages:
Zirconium dioxide, from which this type of knife is made, is so hard and sharp that it does not require periodic sharpening;
homogeneous structure, unlike the porous one, does not retain the flavor of one product and does not transfer it to another (you can cut garlic and then any other product);
light weight does not burden the hand with prolonged use;
material does not corrode, scratch, oxidize.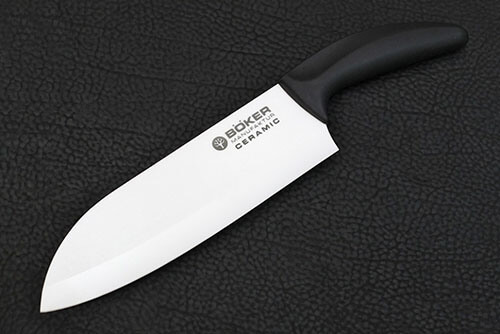 With all the variety of positive points, ceramic has a significant disadvantage – it has a limited area of application due to its increased brittleness. It is not possible to cut meat from the fridge, bone or other hard products with such a knife. For this reason, a ceramic knife cannot be universal, but will only be suitable for certain purposes.
If dropped from a height, the fragile material will split, which cannot be said about metal.
Experts give valuable advice: "Buy a ceramic knife as an additional accessory.
In addition, a poor-quality ceramic knife can be extremely dangerous! If the knife chipped while cutting food, the very small ceramic sharps would get into your digestive tract together with the food! And, unlike steel, it will not dissolve in stomach acid. We don't need to remind you of the consequences. Therefore, if you decide to buy a ceramic knife, you should not save money on it, especially buy it in the nearest supermarket "on sale".
Varieties of knives for the kitchen
There is an opinion that a good hostess does not make do with one knife for all kinds of work in the kitchen. She should use at least a few different kinds. Divide them by the type of products for which they are designed.
There are such basic types:
Bread knife – for cutting bakery products of different sizes, a special knife with a wide base and a long blade with teeth is used;
standard trio – knives 20-40 cm long with a wide blade, a sharp end and a rounded cutting part;
for vegetables (peeling and slicing) small knives with a short blade, sharp, with a smooth cutting part are used;
cheese – the knife is usually long with a wide cutting part;
the fish knife has a kind of serrated blade of medium size;
butter knife – a wide blade and a rounded end for easy smearing;
hatchet – this kind of knife cuts meat, so it has a wide cutting part and a strong handle.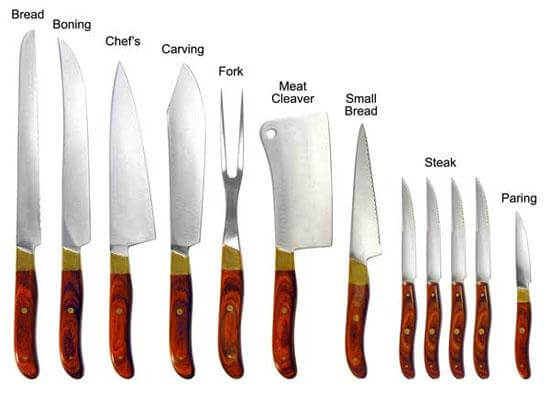 There are many more varieties of knives in the professional kitchen. Here are some of them:
ALSO READ: Best Knife for Cutting Meat
salmon knife – the blade is so flexible and thin that it cuts the fish into transparent slices;
slicer with gruntons – a special knife with holes in the blade (this structure allows you to cut cakes, and fruits without sticking pieces of food);
fillet knife – with its help chefs cut fish and separate meat from the bone;
deboning knife for cutting chicken;
slicer – slices food into very small pieces;
spatula – used by pastry chefs to spread cream on cakes
vegetable slicer;
tomato slicer with a serrated edge and fork on the end – gently cuts tomatoes without squeezing the juice out of them.
Special nuances when choosing a kitchen knife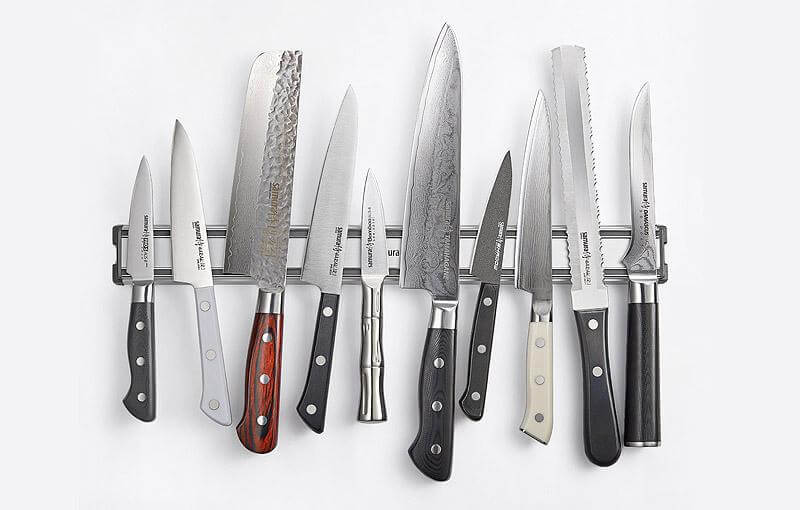 Choosing a knife for your kitchen, it is recommended to pay attention to a number of points, compliance with which will allow you to buy a really high-quality and useful tools in the household.
Blade. Not only the quality of cutting but also the ease of use depends on the right blade. Knives with a brittle base will quickly fall into disrepair, while variants made of forged steel will last forever. Also, the surface should not be scratched or have any other defects. The material should definitely look uniform.
Cutting edge. This part of the knife should not have any chips or dents. Waves or nicks on the tip indicate a low-quality device.
Handle. There can be three variants of handles: wooden, plastic, and metal. The wooden variant for the hand is comfortable but quickly deteriorates over time. Wood cracks gets clogged with food residue, and becomes unusable. Plastic handles are more durable and sturdy, but the steel blade can fall out of the handle after continuous use. The handle made of metal is considered the most convenient and practical option, which does not break, crack or break, and is ideal for the dishwasher.
Sharpening. Laser sharpening is considered the most optimal variant of sharpening. It does not require subsequent regular sharpening.
Fasteners. According to the rules, the blade should run along the entire handle of the knife. If there are rivets on it, they should not stick out.
Price. A quality knife by definition cannot cost a penny.
Ease of use. The weight of the knife and its placement in the palm should be convenient for its owner. For example, the ideal knife for a male chef will be 25 cm long, made of durable steel from Tojiro, Victorinox or Opinel. Chef-knife without problems will be able to do up to 80% of all work in the kitchen: divide, slice, chop. For women, it is recommended to choose a tool no longer than 16 cm in length and a classic shape.
Another "chip" from the masters on the choice of a quality knife. Before buying a tool, you can test for balance. In advance, using the example of an old instrument, you need to decide what kind of balance is needed: with a massive handle, with a weighty blade, or equal in size parts. As practice shows, balanced knives are convenient in use, but it can be very difficult to choose them, even among the expensive models. The test is to place the knife on your finger on the bolster and try to balance it in that position. If the tool does not fall, you can safely buy it.
Remember, you can buy a set of knives not only in a ready-made set, but you can also pick up an arsenal on your own at your own discretion. Better yet, pick your own perfect chef's knife that will meet all your requirements. In this case, you can save up to 80% of the budget.
Rules of storage
It is worth recalling the basic rules of storage and operation of kitchen knives, compliance with which will prolong their life.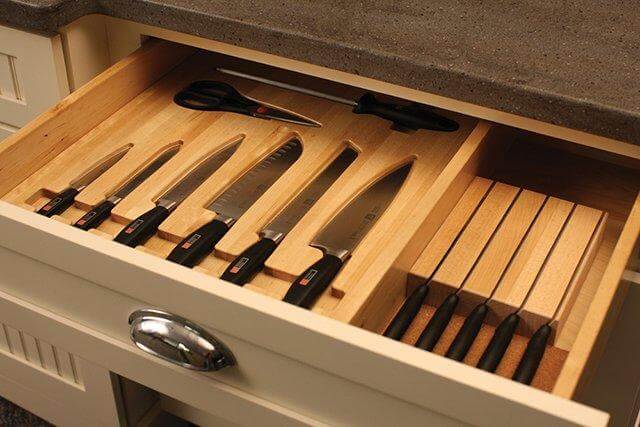 They are as follows:
knives should not contact with each other or other appliances made of metal;
Properly store knives on a magnet or in a stand from the manufacturer;
Cut food on plastic or wooden boards;
avoid getting too wet, do not keep in water for long periods of time, and wipe immediately with a dry towel;
Do not wash in a machine but only by hand to avoid blunting;
ceramic tools should not be exposed to direct sunlight and should be stored in the paper;
Use them for their intended purpose.
The final tip of our review is that you can't skimp on knives. You need to enjoy working in the kitchen and creating new dishes, and you can't do that with a cheap low-quality appliance.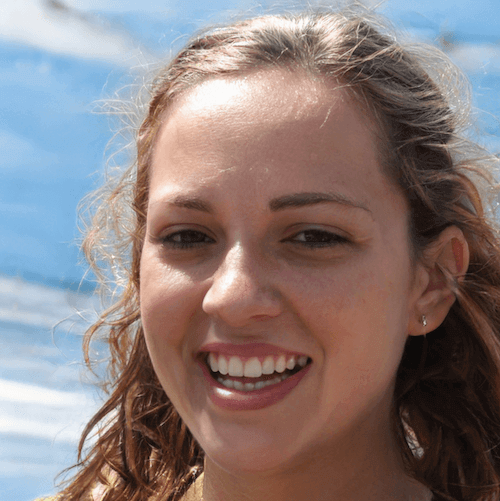 Hey. I'm the author of this blog. Ever since I was a kid, I've seen my dad slickly stabbing. Later he taught me how to throw knives and axes at a target. Then I fell in love with knives, especially about them. This blog is in honour of my dad.