You want to know how to cut sushi? A sushi and roll knife is a yanagiba with a wide long blade, sashimi bocho with a narrow blade sharpened on one side, and takobiki (sashimi knife) with a cut or rounded tip. Use first one to cut raw fish with wide plates. Sashimi bocho makes thin strips of tuna or salmon, cuts seafood. Takobiki is better to use for vegetables.
All of them are quite large, with an operational part length of 200-300 mm, but very sharp, due to under 20 degrees sharpened blade and high hardness steel. The most famous companies producing knives for making rolls and sushi are Kasumi, Kai Seki, Masahiro, but there are also cheaper products of good quality by Samura and Stainless.
Key Features of Sushi and Roll Knives
Sushi and roll knife has the following features.
| | |
| --- | --- |
| Dagger | 200-300 mm long, always larger than the handle |
| Steel | Hardness at least 60-63 HRC |
| Handle | Usually wooden, less often in synthetic materials, rounded, without pronounced finger bends; the upper edge is in line with the butt |
| Blade | Smooth, under 20 degrees sharpening; one-sided for yanagiba and sashimi bocho, double-sided for takobiki |
So, if you wish to know how to cut sushi, think about the right knife. The traditional roll knife is called yanagiba, and it can be used for the most of operations for preparing Japanese dishes ingredients. There is also sashimi bocho that is more convenient to cut sushi products into thin strips, as well as divide finished meals into portions. The third tool is takobiki. It is used to chop vegetables.
So, how to cut sushi properly? Knifes to prepare ingredients for sushi and rolls are used to:
cut raw fish fillets for the outer layer. Slices should be quite wide, thin, but dense, not translucent, even along the entire length. When preparing sushi, sashimi and rolls, it is important how the finished dishes will look;
cut fish for filling or decoration. In the first case, the fillet is cut in elongated blocks. Decor is made in diagonal slicing or thin flat stripes;
grind seafood. Mussels, shrimps, crabs, scallops are also included in the recipe for some types of sushi. Each product requires its own method of cutting, and the tool as well;
prepare vegetables, seaweed, and fruits. More often, they are required for the filling, so are cut in small blocks. In addition, some components must be peeled first.
Varieties of sushi knives
There are following types of knives for cooking Japanese dish
Yanagiba
This is a large tool with 240-300 mm long blade and a very thin tip. Its blade is almost straight, looks up a little, and the butt is beveled down. The shape and perfect one-sided sharpening allow doing almost all operations related to cooking sushi. But more often, yanagiba is used to cut fish fillet into thin slices. These slices then used to wrap sushi.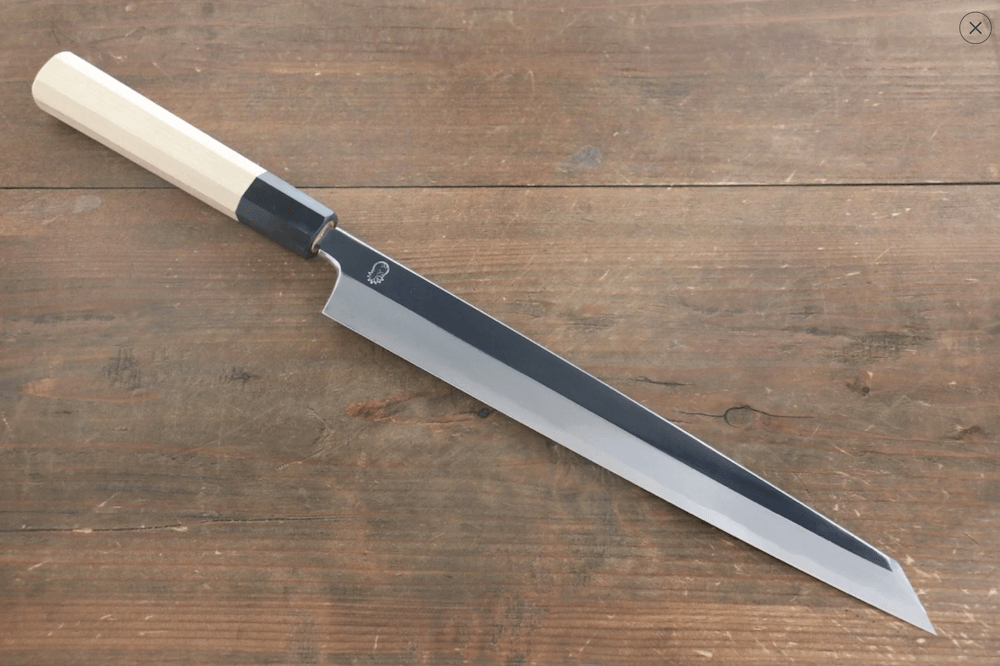 Sashimi bocho
This knife is also large, but with a narrow long blade (up to 200-330 mm). The width of the main part does not exceed 32 mm. The sashimi bocho butt is lowered, and the blade line looks up. The blade is sharpened on one side only. The knife is used to cut thin slices for the rolls filling.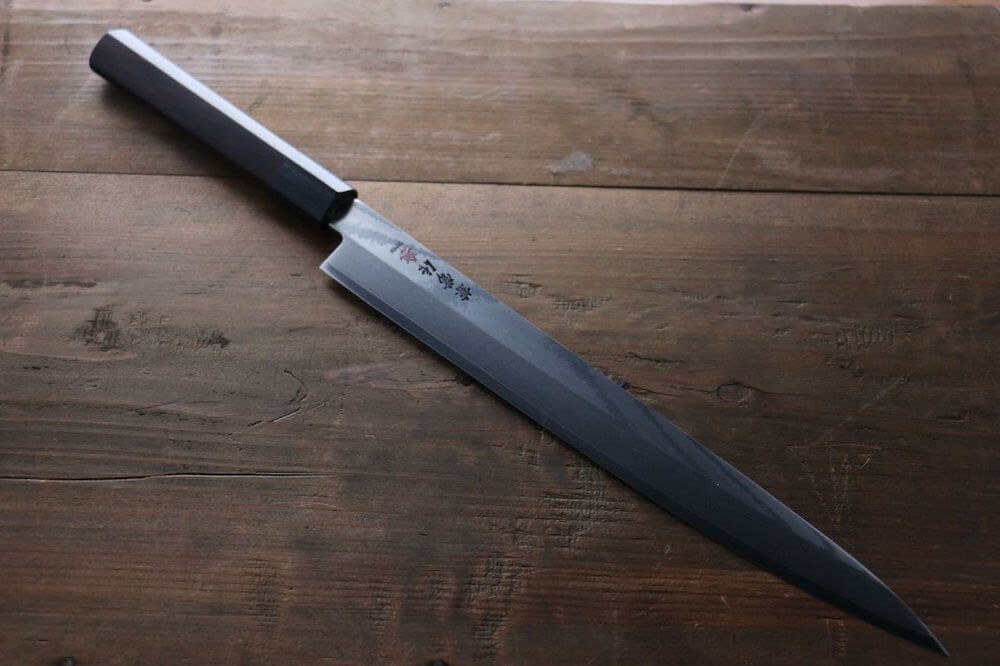 Takobiki
This knife is good to grind seafood and vegetables. It has a straight butt and a raised blade line. The tip of the blade can be slightly rounded or completely blunt. Its length reaches 165 mm, and the total lengths is up to 300 mm.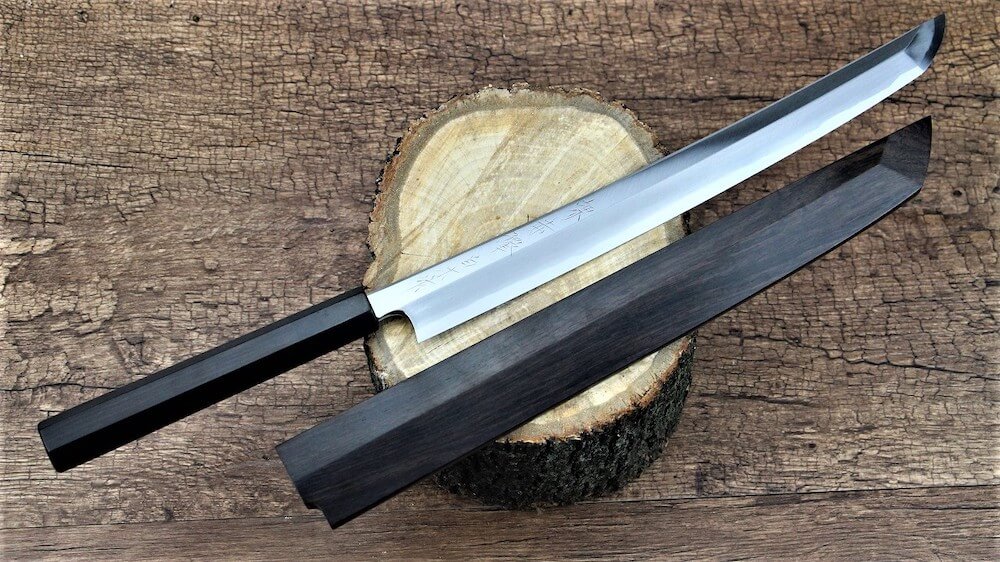 Usuba
The tool can replace takobiki, as it is designed for cutting vegetables. However, it is not convenient to prepare seafood with it because of the blunt tip. The blade length of this tool is 200-250 mm.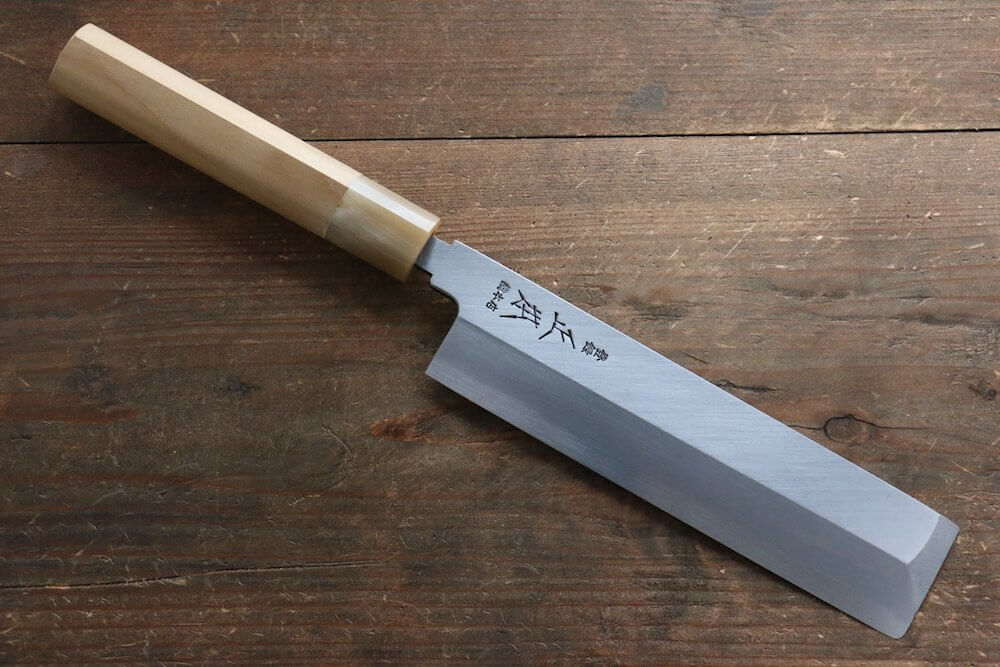 Deba
This large and heavy knife isn't used for sushi, but to cut whole fish. The tool has a wide blade with a length of 150 mm (total length 290 mm); the lines of the butt and the blade are symmetrical towards the tip. The blunt blade part is also very thick. The blade, on the contrary, has the thinnest edge.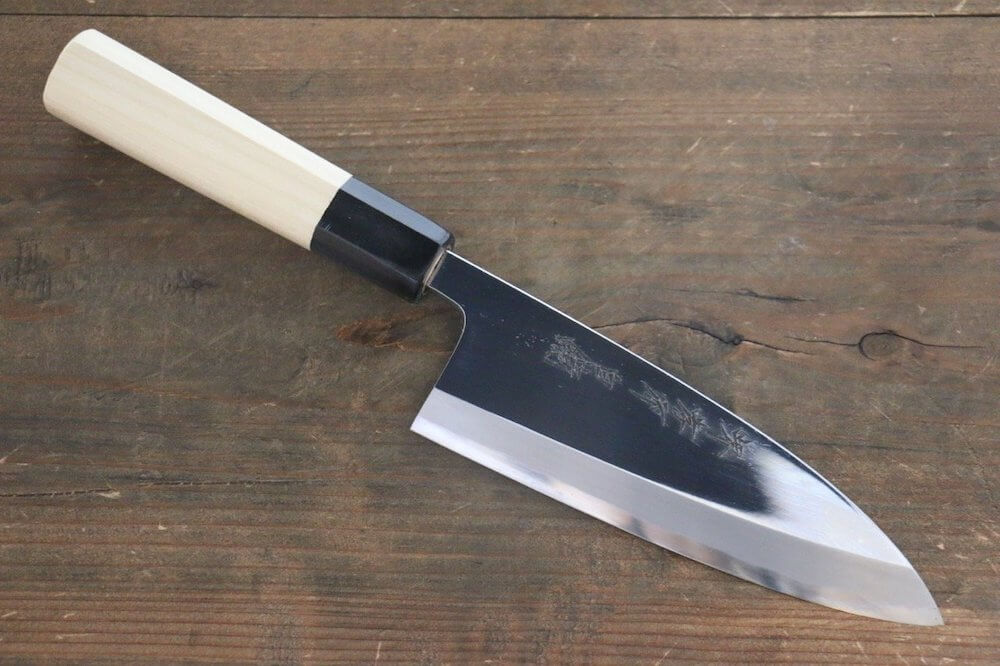 Santoku
The knife is also used for not only sushi and rolls, but to chop vegetables and use as a slicer for fish. Santoku has the rounded dagger (160-190 mm length) and the straight blade. The tool itself is quite heavy. But nothing sticks to its surface, so using santoku in the process of making sushi is also quite convenient.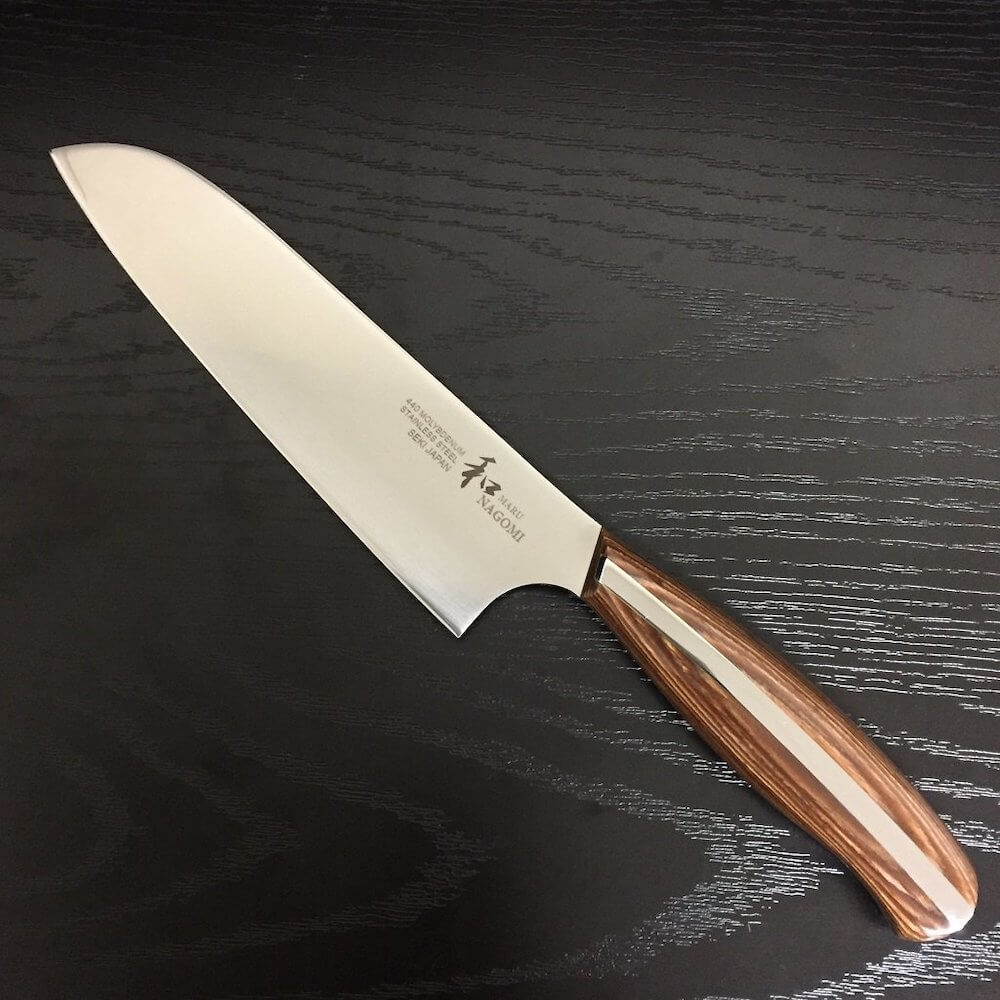 How to cut sushi properly
The knife for cutting rolls is used by the following rules:
Its sharpness should first be checked on paper by cutting it. If the blade wrinkles the sheet, you need to sharpen the edge.
The fish fillet, before being cut into portions, is dabbed with a napkin to remove excess moisture. Put it for a while in the refrigerator in advance, as it is easier to cut a slightly frozen fish.
Salmon is laid so that the knife cuts the flesh along the fibers. Tuna is cut across, keeping the slices solid.
If you need fish plates, like in Philadelphia sushi, they are made 5 mm-thick and 50 mm-long. Take yanagiba or sashimi bocho, put the fillet on the board with the skin peeled out and cut it off, directing the knife blade from right to left and slightly down. Then turn over the steak and cut even length pieces (the blade goes almost horizontally).
The same can be done diagonally so that the fish plates look even more appetizing. Start cutting the steak not from the thickest edge, but from the narrow one. The knife is placed at an angle to it. Slices should be up to 5 mm thick.
Slicing fish into narrow strips that will then be placed inside the rolls is also done by yanagiba or sashimi bocho. First, cut 5 mm thick and 50 mm long plates. Then divide them into 5 mm wide strips.
Fish cubes are made from narrow strips. First, cut the fillet like in the previous paragraph. Then grind it, making cuts perpendicular to the previous dissection lines and each time retreating by 4-5 mm.
Use takobiki to chop vegetables. First, cut off all unnecessary parts (tips, wilted or rotten places). Then, in one motion, cut the vegetable in half along with the blade from top to bottom. Each half is cut in the same direction repeatedly until you obtain 2-3 mm thick strips.
The finished dish is cut in one motion by sashimi bocho. First, make an incision from above, and then insert the blade deep and simultaneously pull the handle towards you. Divide the roll in half, then place the halves next to each other in parallel and cut off the tips. Then cut them into smaller pieces. To prevent rice from sticking to the blade, moisten the knife with cold water or rice vinegar.
Knives for sushi and rolls are no less important than the products used. They help to make the dish aesthetically attractive and to cook it quickly. However, you don't need to choose the most expensive knife; better buy small-sized knives, but made of high-quality steel and with the correct sharpening.