A knife is an integral part of kitchen equipment used literally by everybody. Both a high-class chef and a simple housewife are interested in quality products so that cooking is not only useful, but also a pleasant experience. Slicing ingredients for soups, salads, and desserts is an important part of the cooking process. In order to make it fast and comfortable it is necessary to use high-quality sharp knives. Today's market offers the widest variety of these products: from super-cheap Chinese "no-name" manufacturers to European or Japanese brands, whose quality is confirmed by centuries-old practice. We can't review all of them at once but it's definitely worth a try to reveal the best kitchen knife brands in the world, whose products are of high quality and have their own advantages.
Traditionally, the world leader of the best cutting tool is Japan, with its centuries-old samurai past and high-tech present, and Germany, which has a long history of weaponry and is distinguished by high quality products. Yes, weapon technologies used to produce high-quality steel has been improved for centuries by the masters of the blade, and more recently they combined with modern scientific achievements to peacefully serve the cooks and housewives.
So check our top of the best kitchen knife brands in the world whose knives certainly deserve attention.
Arcos — Spain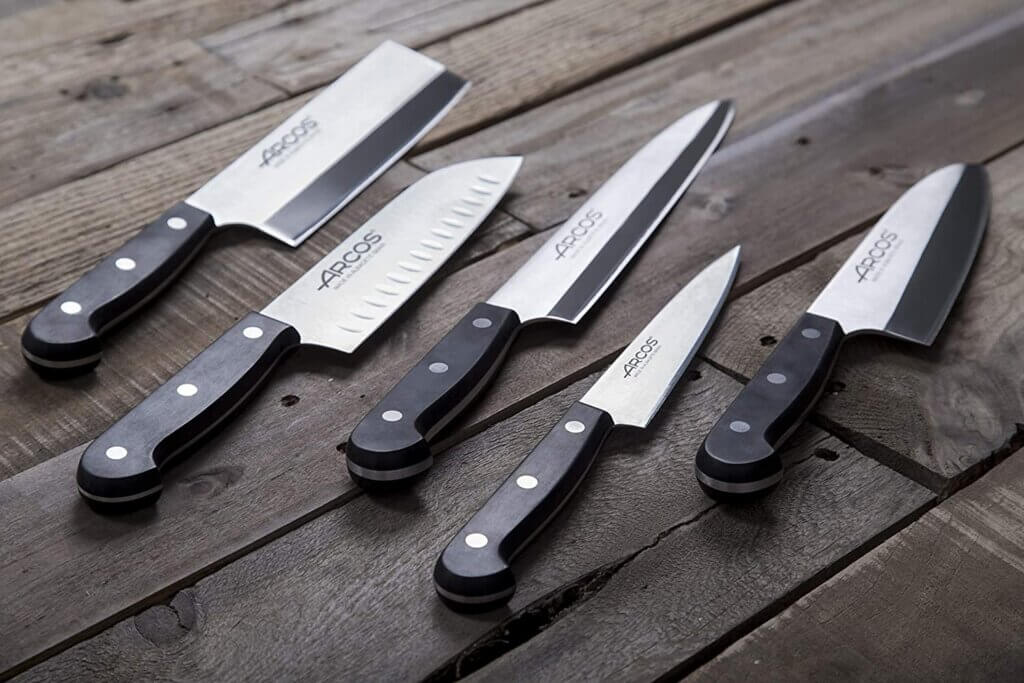 The Arcos brand is so ancient that you can find 18th century Arcos knives in some Spanish museums. Almost three centuries of knife production from manual processing to industrial scale have led the company to world leadership in the production and sale of high-quality knives.
Perhaps the best home knives from brand Arcos
Arcos Universal 7-Inch Granton Edge Santoku Knife

Arcos Forged Riviera 8-Inch Chef Knife

— Affordable
— Professional quality 7-inch granton edged santoku knife
— Arcos exclusive Nitrum stainless steel formula enriched with nitrogen
— Ergonomic, slip-resistant POM handle resists impact, abrasion, and solvents
— Dishwasher safe, hand washing recommended

— Chef knife specially designed for chopping, mincing, slicing and dicing vegetables, meat and fish
— High cutting power - over 100 mm and long edge retention - over 350 mm.
— Made of hardened and tempered forged nitrum stainless steel
— Precise cutting tool used by professional chefs worldwide
Yaxell — Japan
Japan is currently associated with the latest technology and high quality products. Japanese knives have earned great popularity, both among professional chefs and among women around the world. Yaxell is not the last company in the list of manufacturers from the beautiful country of sakura and geisha. The company is based in the oldest center for the production of edged weapons – the city of Seki. The history of the brand counts more than 80 years.
Product advantage are resistance to bending under load and high strength. In addition, the products can boast a long service life and attractive appearance. They combine the latest achievements with ancient traditions and experience.
Suncraft — Japan
The famous brand from the Land of the Rising Sun is famous for its wood-handle knives in the national style, as well as universal rulers designed with the participation of the European chefs. These products have gained widespread popularity among professional chefs and amateurs. Product quality is constantly being improved, and the appearance of knives is becoming more sophisticated. By their characteristics, Suncraft knives just as good as the best samples of samurai blades.
Wuesthof — Germany
The Wuesthof knife brand is over 200 years old. Since 1814, a company based in the German city of Solingen has been manufacturing and selling knives for home cooking and restaurant shops. The brand is so famous and sold in so many stores around the world that the company has created a completely different line of knives from very affordable (knives with a plastic handle) to expensive sets in presentable wooden coasters.
Tamahagane — Japan
The Japanese brand that applies the Katana production technology to make their products. To give the steel strength and increased hardness, they add more nickel and vanadium to the composition. The hardness of the material allows using it for cutting glass.
As the knife is made by the ancient, time-tested technology, the surfaces acquires a special pattern. This is because the product consists of 33 layers of steel. This knife will become not only a trusted aide in the kitchen, but also a real asset of its owner.
Güde — Germany
An outstanding representative of German classics, Güde firm counts about three hundred years of continuous history. It was then that the representative of the blacksmith dynasty Gude founded his production. Each knife of this company is an upscale piece of blacksmithing art. Manual work makes this product not a cheap pleasure, but the quality of the products is high. Gudet's kitchen knives are made of high-quality steel, reinforced with strong metals additives, so they almost do not get dull, do not rust and can even cut solid foods.
Robert Welch — Great Britain
The Robert Welch's fan club includes not only rich and famous people, not only major restaurateurs and politicians, but even members of the royal family. From the very beginning, brand founder Robert Welch knew that he wanted to produce high quality and functional products at affordable prices, elegant and beautiful. He created a brand that captivates with its beauty and functionality.