Pumpkin is an essential part of Halloween. Especially a pumpkin carved face with lighting from the inside. According to ancient beliefs, it scares away evil spirits from your homes on All Saints Day. Therefore, today we are learning how to carve pumpkin for Halloween and some scary pumpkin carving ideas.
This pumpkin is also called "Jack o'-lantern". The legend says about the cunning drunkard blacksmith Jack, who twice trapped Satan himself. Wanting to free himself, the deceived devil was forced to promise Jack not to interfere in his life and not take his soul after death.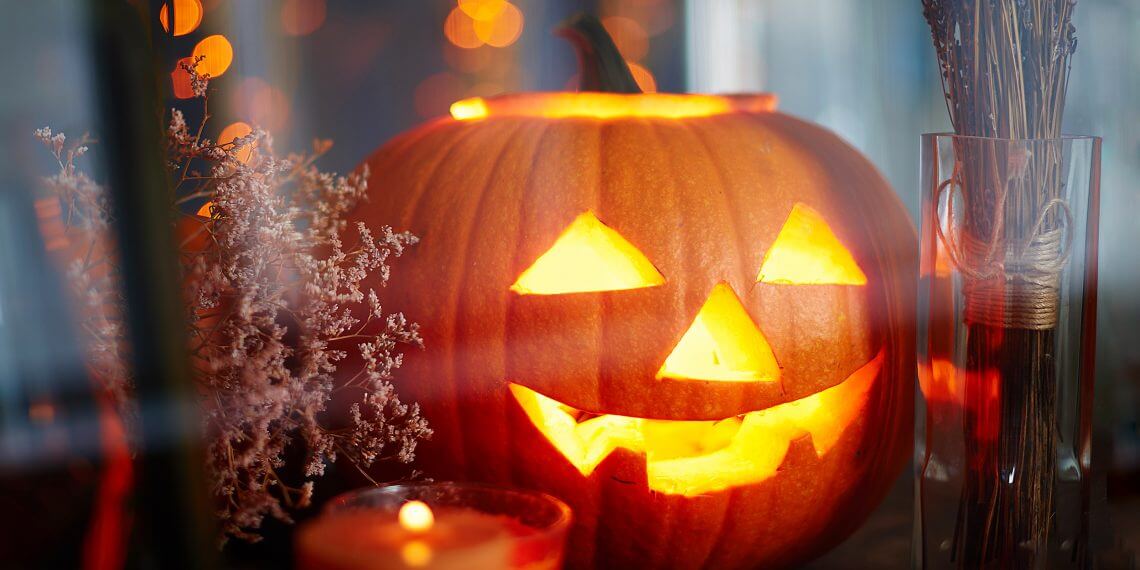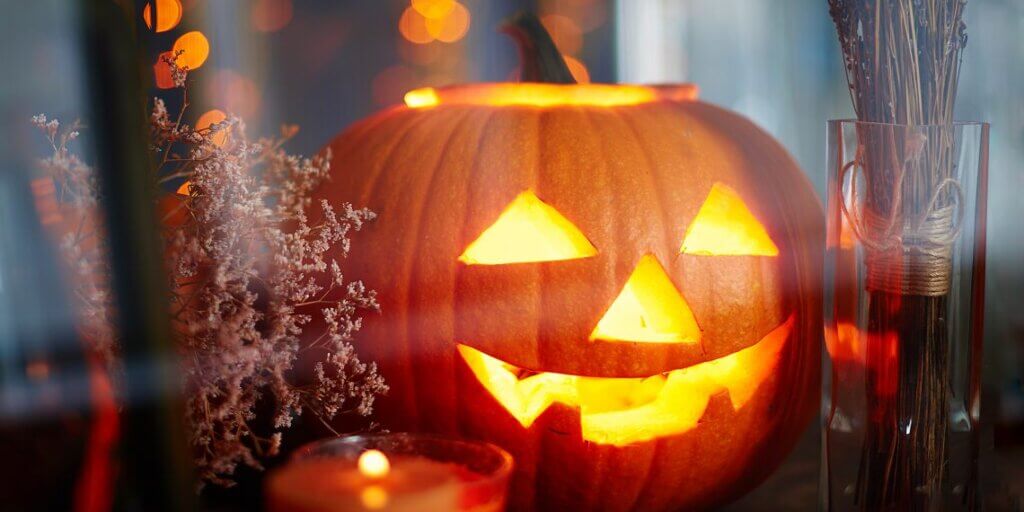 When Jack died, he could not go to heaven or hell. Both God and Satan, true to his word, closed their possessions to him. At parting, the devil threw a small coal to Jack so that his restless soul could light his way. Jack put the coal into the pumpkin, protecting it from the rain, and went to wander the earth waiting for the Judgment Day.
This is how a vegetable lightened inside became a symbol of the soul unable to find peace after death. Therefore, the pumpkin usually depicts various faces with a frightening smile. Although some people prefer to cut other drawings, for example, ghosts, witches, animals, film and cartoon characters, and even complex art compositions.
This decor element lasts for only 3-5 days, so it is better to cut it out just before the celebration. You can use special sets of knives or any ordinary sharp tools for this.
Where to start
To make the lantern look beautiful, you need to choose the right vegetable. Pay attention to its appearance. It should be even and smooth, no dents, scratches and other defects. Consider their shape and color as well. It is better that the color of the plant is uniform, and the shape is correct and proportional. The pumpkin should not be rotten.
It is hard to carve Halloween faces on a small surface of a pumpkin, so the average size will be optimal.
What do you need for pumpkin carving for Halloween
Pumpkin carving kit
To carve a pumpkin, you will need a special Halloween pumpkin carving kit or you can use a regular sturdy knife if you don't have it. If the drawing is complex, take several pieces of different sizes. Use a large spoon to scrub the insides of the pumpkin.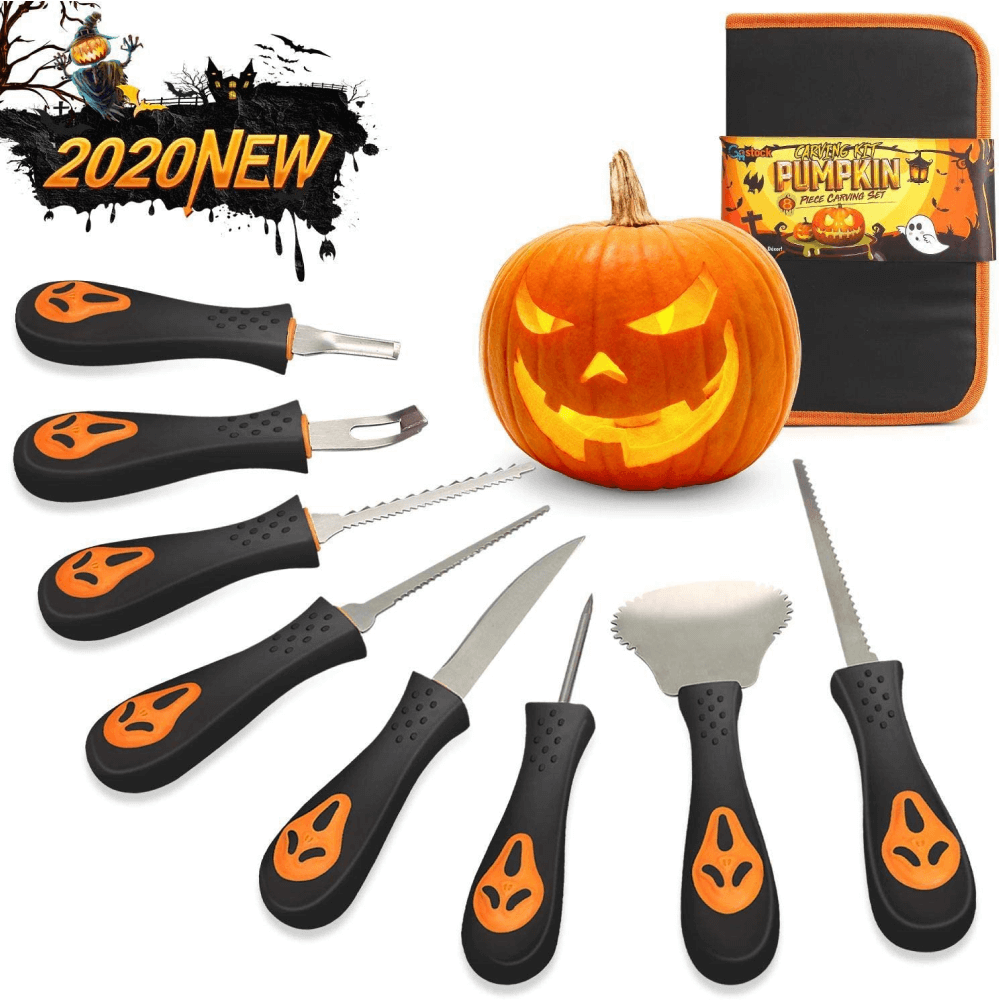 My Choose
GoStock Pumpkin Carving Kit
2021 New Halloween Professional Pumpkin Carving Tools
Carrying Case
Duty Stainless Steel
Pumpkin Carver Knife Set for Halloween
Scary pumpkin patterns
Use a felt-tip pen for drawing. You may also need a Halloweens scary pumpkin patterns. Here are some classic and non-standard options:
If you choose to use a scary pumpkin stencil, you will need scissors, tape or pushpins, and a needle.
Also prepare one or more candles, as well as a lighter or matches. You can use electric candles or garlands if you wish.
Guide: How to carve a pumpkin for Halloween in 2022
After preparations, start creating your Halloween decoration. How to carve a pumpkin for Halloween? The process will be simple if you follow the step-by-step instructions.
First, you need to decide how you want to illuminate the lantern from the inside. If you want to make a Halloween pumpkin decoration with a candle, you need to make a hole on top. To do this, cut a cone piece from the top so that the lid does not fall inside. If there is a garland or a flashlight inside, it is better to cut the bottom.
So, cut off the top of the pumpkin. In order not to fail, you can draw a circle on top and cut along.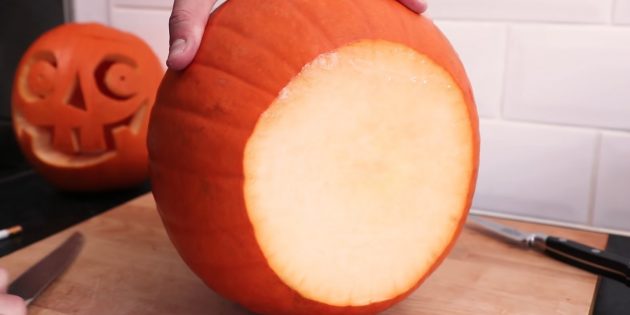 Cut out the pumpkin pulp in a circle.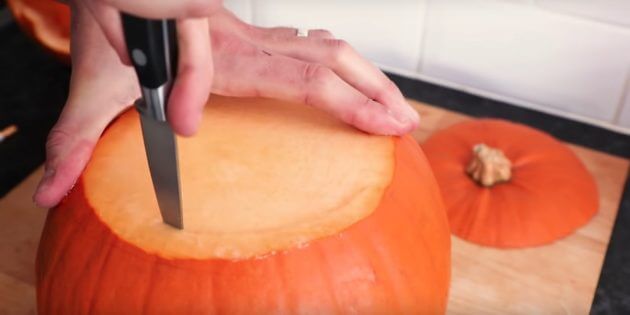 Take out the cut part.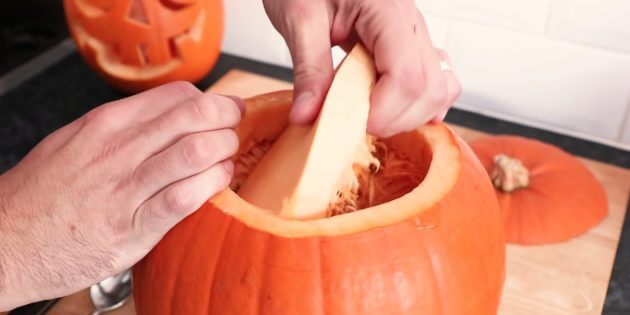 There is another way you can remove the top. Cut it at an angle, poking through the pumpkin and cutting in a circle. Remove the top and cut off the pulp.
Do not throw the top away, as you'll need it.
Use a spoon to scoop out the seeds and any excess pulp. The pumpkin must be empty on the inside. If the walls of the future lamp seem thick to you, scrape off more pulp from the inside.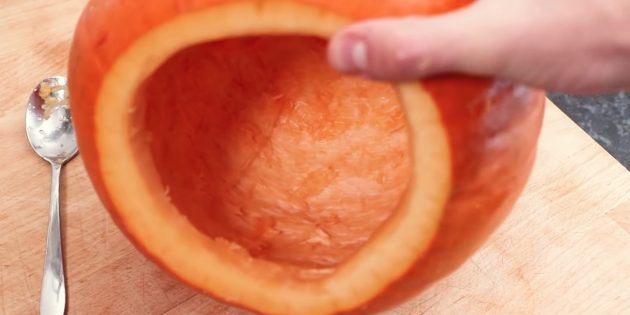 Using a stencil or pattern, draw eyes, nose, mouth, and some teeth on the pumpkin.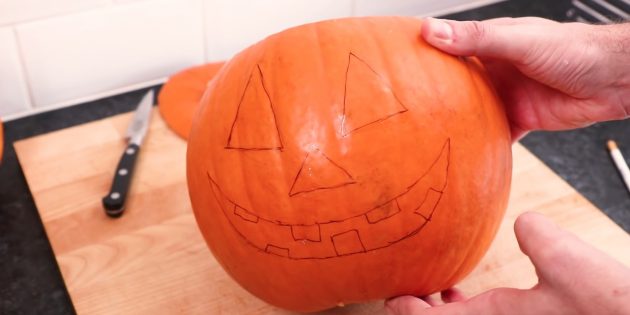 If you decide to make a lamp using a template, first print the version you like. Then there are two ways to use it. First one: cut out the details on the template, attach it to the pumpkin with tape or knobs and circle the holes.
Second one: attach the template to the pumpkin and go over the edges of the parts with a needle. A noticeable dotted line should remain. After that, you can circle these lines with a felt-tip pen for convenience.
Start carving along the marked lines.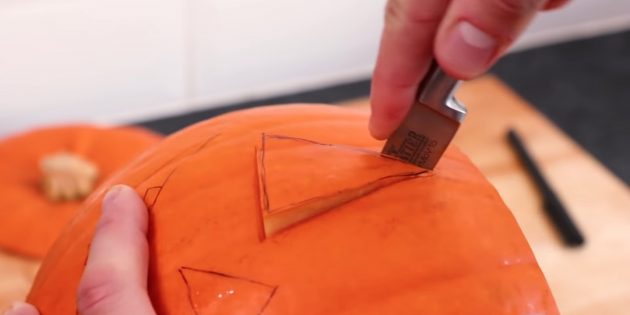 Remove the cut-out parts. You won't need them anymore.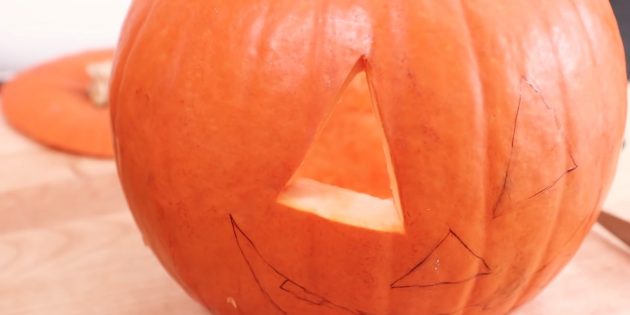 Cut out the other drawn pieces in the same way.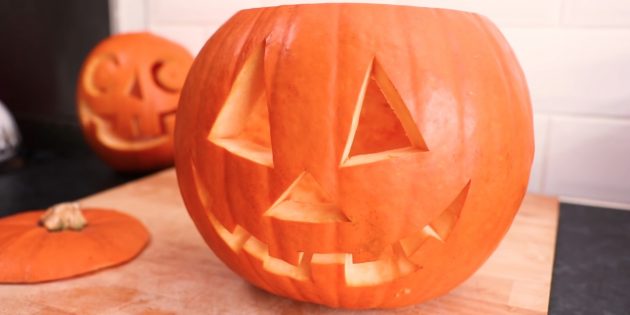 Place one or more candles inside and light them up.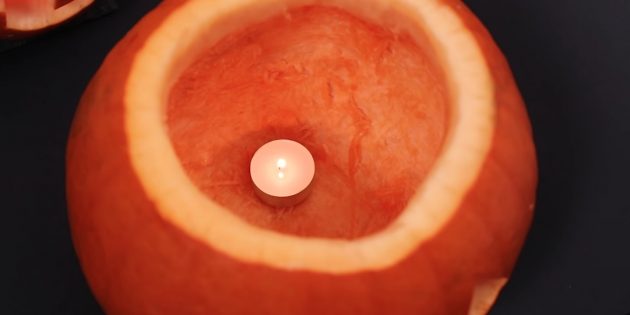 Put the cut cover on top. The lantern is ready.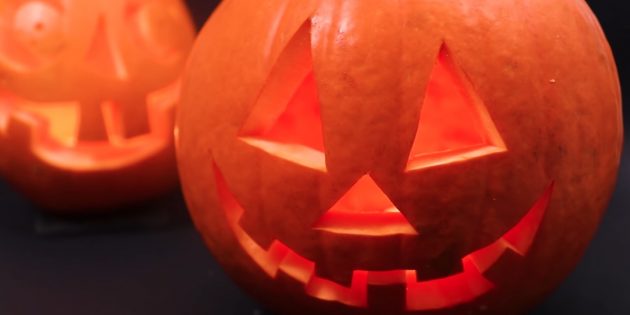 Some other ideas for carving the pumpkin
As already mentioned, there are a lot of pumpkin lantern designs. This tutorial shows you how to make Jack's lantern with a menacing grimace:
And here is an interesting, creepy lantern with a small pumpkin in its teeth:
Some funny and not at all scary faces:
And these are themed lamps with superheroes:
Wolf pumpkin carving
General tips and tricks to carve pumping for Halloween
Choose only fresh vegetables with not very hard skin. It will be easier to create a lantern face from them.
To make the pumpkin last longer, choose a vegetable without damage and rotting places. In addition, it serves as a decor item, so it should look perfect.
To make the face easier to cut, scrape the pulp from the inside where you will cut out the eyes and mouth. Perfect wall thickness is 2.5 cm.
To make the pattern last longer, lubricate the carved edges with Vaseline.
If the pumpkin starts fading, put it in water for several hours.
Rub the inside of the pumpkin with ground cinnamon or nutmeg, then your lantern will not only shine, but also smell perfectly.
Make a few holes in the pumpkin lid so that hot air can go up free without frying the pulp.
To make the candles inside the pumpkin burn longer, put them in the freezer for a couple of hours.
What else can you do with pumpkin?
First, the pumpkin can be simply dyed. To do this, choose a white or light yellow vegetable – this will make the paint more beautiful. How else can you decorate a vegetable for Halloween?
Paint in pastel colors.
Take 7 small fruits and paint their rainbow colors.
Make a gradient dyeing.
Place black, white, and bright orange lanterns around the house.
Decorate the vegetable with black and white stripes, cages, or polka dots.
Decorate the Halloween pumpkin with colorful handprints.
Draw a face with paints instead of carving.
Paint like a large donut with colored glaze and powder.
Cover the vegetable with fluorescent paint to make it glow at night.
Decorate with cobwebs and spiders.
Make an autumn pattern.
These are far from all options for Halloween scary pumpkin carving ideas, you can think of even more yourself.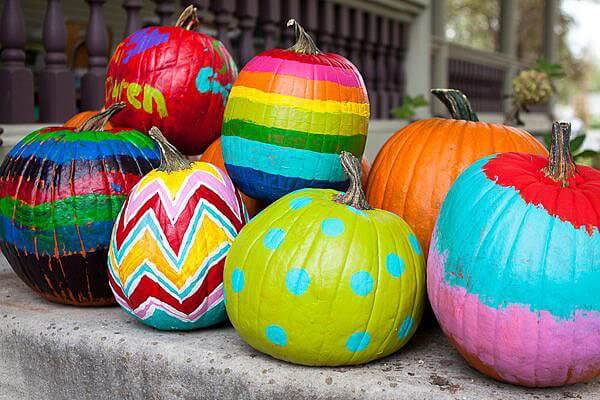 Secondly, you can paint the Halloween pumpkin with wax crayons. You'll get a very interesting and beautiful effect from this technique. Put many wax crayons at the cutting itself. You can arrange them in a chaotic order or create a gradient so that the colors flow smoothly into each other.
After that, take an ordinary hair dryer and direct a stream of warm air onto the crayons. The wax will melt and run off the surface of the vegetable, forming fancy rainbow smudges.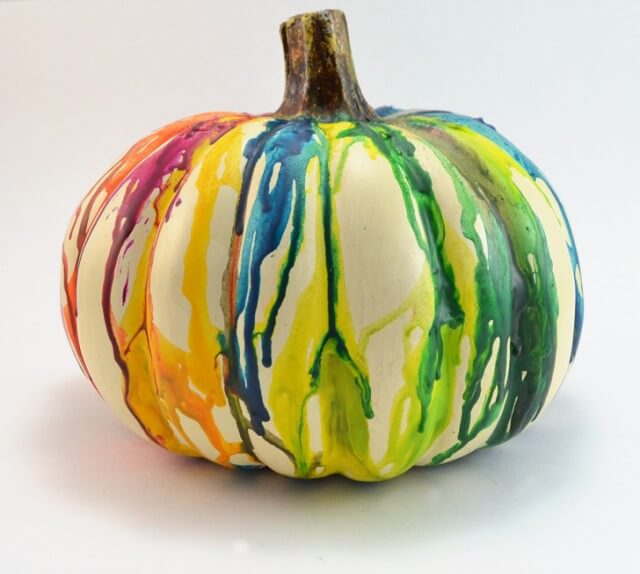 You can also decorate the Halloween pumpkin with various elements to give it a festive look or turn it into a true work of art. These elements are:
buttons of all colors and sizes;
beads;
ribbons;
bows;
lace;
sequins and rhinestones;
fabric;
paper applications;
garlands;
twine;
burlap;
autumn flowers.
You can draw funny and kind faces with markers, write funny inscriptions on the peel, and use the vegetable itself as a beautiful vase or basket for flowers and sweets. To make a basket, you need to carefully cut out a handle, and if you cut out doors and windows instead, you get a little sweet house.
Now you know some scary pumpkin carving ideas for Halloween and how to create an original decoration for All Saints Day. Halloween beauty is not only a nice piece of décor, it is also a wonderful opportunity to show your creative nature, bring to life the most unusual ideas and spend some wonderful time with your loved ones.
Place your Halloween lantern in a prominent spot in your home for guests and friends to admire!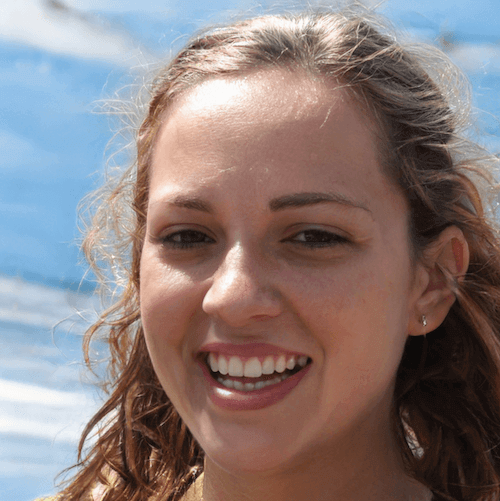 Hey. I'm the author of this blog. Ever since I was a kid, I've seen my dad slickly stabbing. Later he taught me how to throw knives and axes at a target. Then I fell in love with knives, especially about them. This blog is in honour of my dad.