Jamie Oliver is a chef who needs no introduction. Professionals love his recipes for their simplicity, originality, and new look at familiar products. Following Jamie's instructions and using Jamie Olivers knives, it is indeed difficult to spoil a dish.
Cooking Meat and Fish
Never cook steaks as soon as you take them out of the refrigerator. Meat must rest at room temperature for at least an hour, or the steak will turn out tough and unpalatable. If you are going to bake the turkey, take it out of the refrigerator for 2 to 2.5 hours before putting it in the oven.
If you want your steak to look browned but still be medium-rare, you should consider a double steak – a piece twice as thick as a regular steak. It will look crispy and keep the color and texture you want inside. By the way, the beef that you plan to bake, you can also roast a little bit in the pan first until it forms a nice golden brown crust.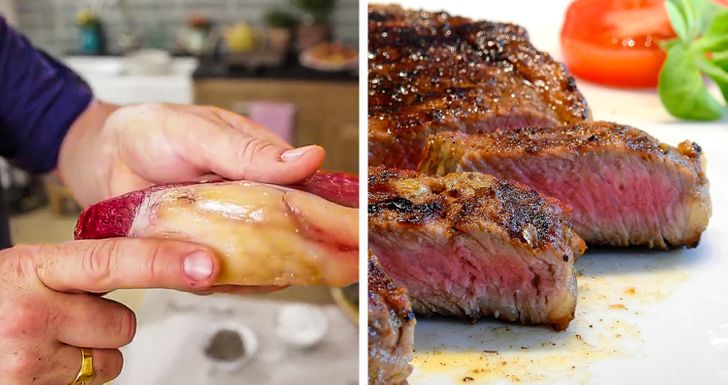 When frying fish, it is better not to oil the pan, but the fish itself. That way it won't burn. And if you put a piece of smoked bacon on the fish during cooking, it becomes juicier and gets an interesting flavor. If you are going to cook fish on coals, it is better to salt it beforehand. Fish often sticks to the grill because of the moisture that is released during the frying process. The salt will absorb the liquid so you don't have to clean the grill.
For grilling meat, prepare 2 pulverizers: one with water to stew the fire, the other with fragrant vinegar to make the meat more flavorful and to form a crispy crust.
When you suspect that the meat may be too fatty, add chopped pineapple to it – it will cope with this problem by absorbing the excess fat.
To make the steak more flavorful, you can do three things while frying: first, rub a slice of garlic cut in half on the meat while turning it. Second, grease the steak with butter. And third, make a bundle of aromatic herbs (such as thyme, rosemary, or oregano), dip it in the juice that comes out of the steak when frying, and lightly beat it on the piece.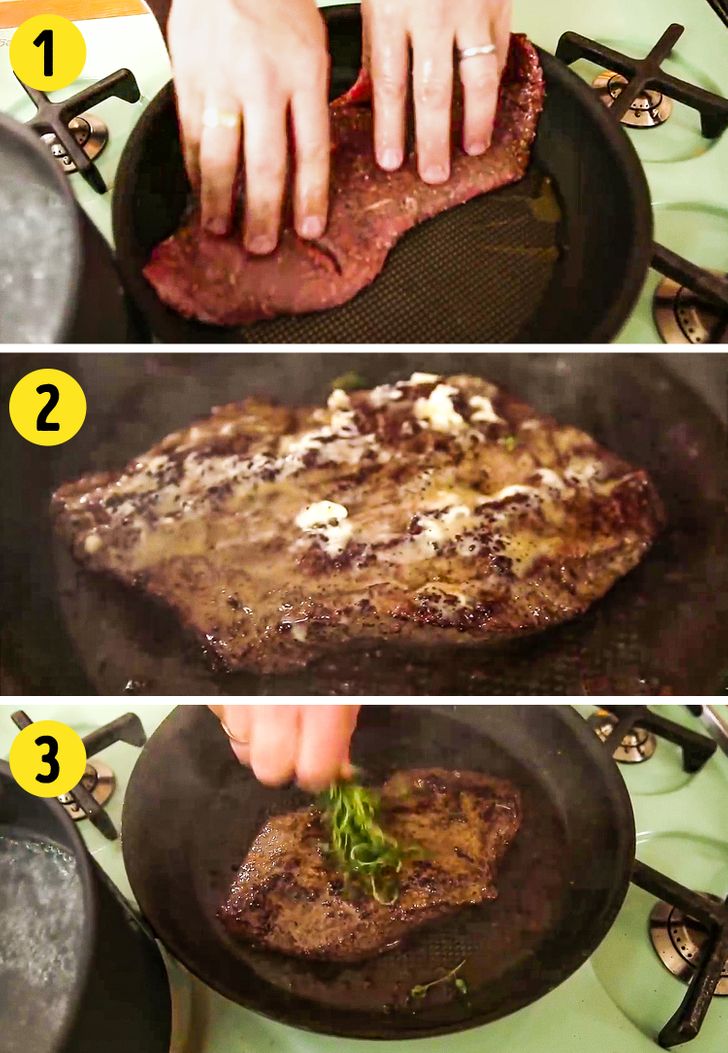 Cooking vegetables
Everyone is familiar with the pungent smell of frying onions. To avoid it, salt the onions and turn down the heat under the pan.
Broccoli goes best with parmesan and anchovies and soy sauce.
To make perfect baked potatoes with a crispy crust, they need to be peeled, boiled for 10 minutes, then dried in a colander. You can pour olive oil, a mixture of olive oil, and butter or goose fat into a tray, also add a little wine vinegar, herbs, and spices. Before laying the potatoes on the baking tray, the colander should be shaken well, so that the potatoes look slightly crumpled, then dip them in oil and spices and bake for 50-60 minutes at 180 ° C.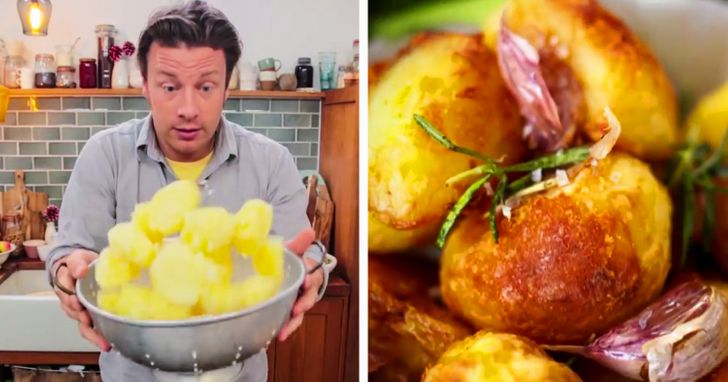 Stew the vegetables before filling them with water or broth. This way they will be more flavorful and the soup cooking time will be 10-15 minutes shorter.
Beets should be salted at the beginning, and mushrooms – at the end of cooking.
For zucchini to turn out more juicy, crumple them before roasting.
Freeze chili peppers. First, so they last longer without losing their properties, and second, you can easily grate them and add them to a sauce or sprinkle shavings on a ready dish.
An unusual way to thinly slice cucumbers and carrots for a salad is to use a vegetable peeler. Jamie claims that with this slicing, any salad will look like a chef's salad.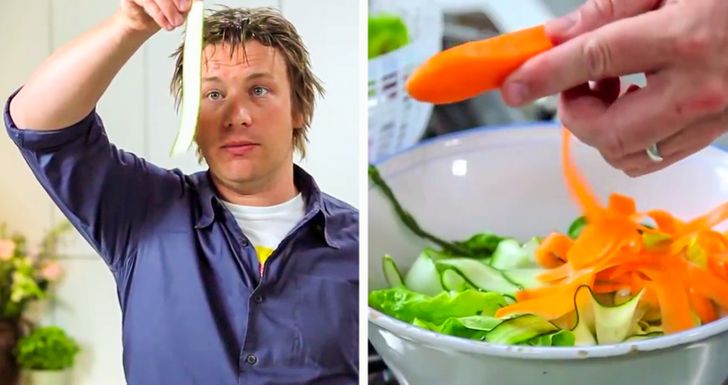 Young potatoes should be placed in boiling water. And so that there is not too much moisture left in the boiled potatoes, after draining the water, cover the pot with a towel – it will absorb the liquid. If you plan to add the potatoes to the salad, you shouldn't wait for them to cool. Cut while it's hot.
Tips for those who don't like throwing away food
Darkened bananas can be peeled, chopped, placed on a baking tray, and baked at a low temperature. When they have cooled, put them in a jar – they can be eaten as chips or added to porridge.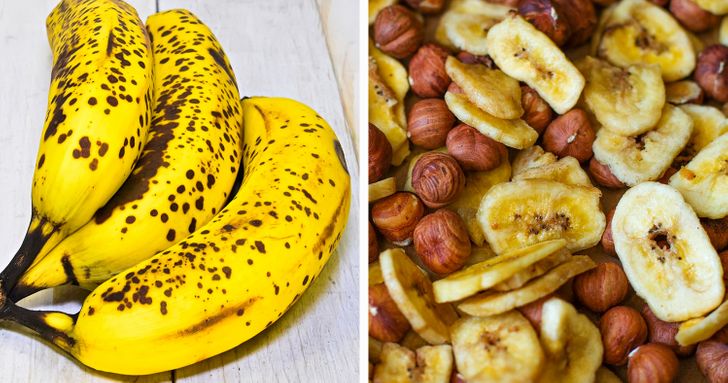 Stale bread can be used to make a host of delicious things: classic Italian tomato-bread soup, tomato and bread salad, croutons, and breadcrumbs. Bread crumbs can come in handy for sprinkling on a shepherd's pie.
If you cut the fruit but don't plan to use it all at once, rub lemon juice on it before storing it in the refrigerator. This way you will prevent oxidation and the fruit will not darken.
Most vegetables that we used to peel are better to eat with the skin: it is tastier, healthier and less waste. Potatoes, carrots, beets just enough to wash well before use.
Almost anything can be added to the vinegar: leftover vegetables, herbs, spices. All this infuses and gives the vinegar a unique flavor, it can and should be used during the preparation of various dishes. For example, strawberry vinegar is great for stewed meat. The recipe is very simple: add a pinch of salt, sugar, and chopped berries to the vinegar.
A good way to "reanimate" yesterday's loaf is to make garlic bread out of it. To do this, you need to make one longitudinal cut and portion cross cuts, without touching the bottom crust. Inside the loaf put chopped garlic, herbs, drizzle with olive oil, wrap with paper or foil and bake until crispy.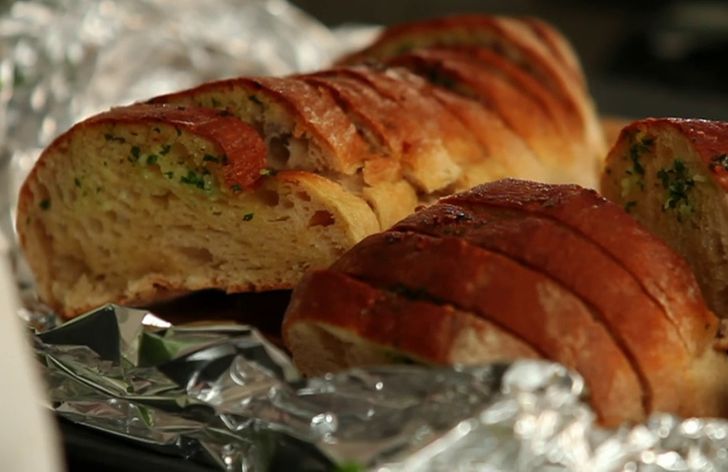 If you are cooking broccoli or cauliflower, don't forget that the base on which the florets "grow" can and should also be eaten.
Food Preservation
If you have leftover feta cheese, you can extend its shelf life. You need to cut the cheese into cubes, put it in a glass jar, add spices (hot pepper, oregano, peppercorns, coriander seeds), and pour olive oil. This way the feta can be stored for several months.
You can extend the shelf life of fresh herbs by wrapping them in a damp kitchen towel and storing them in the refrigerator. And to keep citrus and tomatoes fully preserved in their natural flavor, they should not be stored in the refrigerator.
Surprisingly, whole eggs absorb flavors through the pores in the shell, so it's best not to put them out of the box in which you bought them. Or at least don't put them near foods with pungent odors, like fish.
Miscellaneous
Five ingredients Jamie highly recommends keeping at home at all times: olive oil for cooking, Extra Virgin olive oil for salad dressing, red wine vinegar, sea salt, and black pepper.
The best way to get more juice out of a lime or lemon is to preheat it. If for some reason you can't do this, put the citrus on a flat surface and roll it around as if you wanted to make a sausage out of it, for about 20 seconds. Then cut it open and squeeze out the juice – there will be considerably more.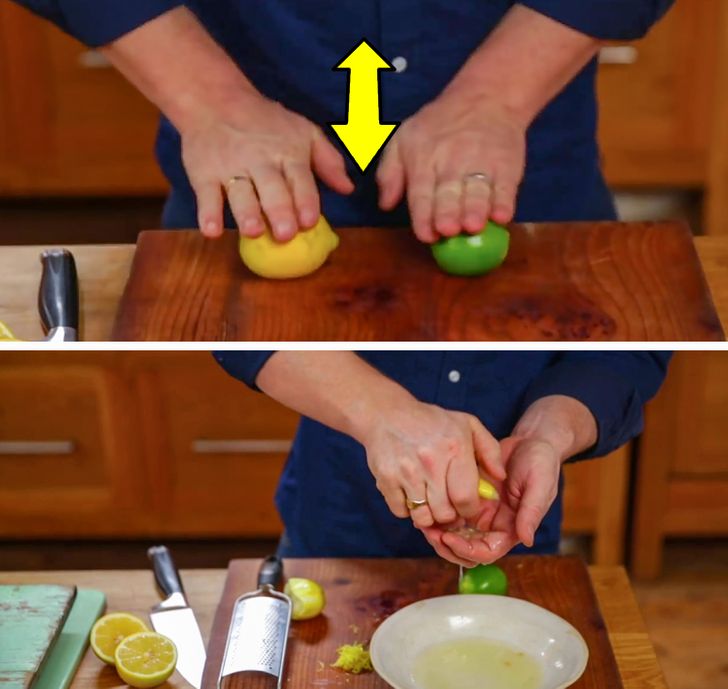 To make the flavor of the mulled wine richer and not to evaporate the alcohol, divide the wine into two parts: cook the spices in one, and add the second at the very end and, without bringing the drink to a boil, take it off the fire.
If you want the eggs to be fluffier when beaten, do it over steam.
To make a delicious limoncello drink, choose Amalfi lemons, which are large citruses of deep yellow color with lumpy skin.
How to preserve lemons by Jamie Oliver?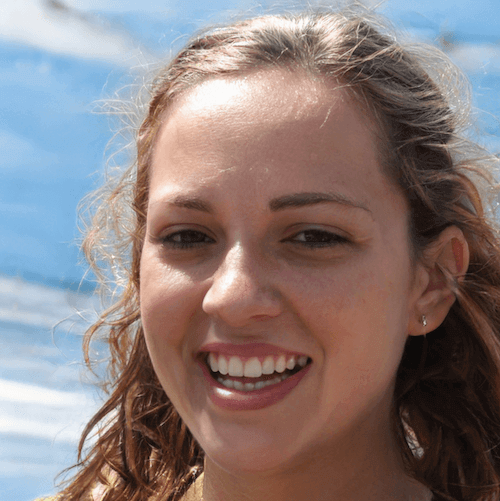 Hey. I'm the author of this blog. Ever since I was a kid, I've seen my dad slickly stabbing. Later he taught me how to throw knives and axes at a target. Then I fell in love with knives, especially about them. This blog is in honour of my dad.